The Anti-New York Times
ANTI-NY TIMES ARCHIVES / PREVIOUS MONTHS
"All The News That Sulzberger's  Propaganda Rag  Saw Fit To Distort"
Half Truths & Globalist Bias of The NY Times Front Page Headlines

___________________________________________________________________
        AUGUST, 2018   1 FED RESERVE NOTE
___________________________________________________________________
"We read and rebut their vile crap so you won't have to!"
*****************************************
ALL ARTICLES FOR ANY GIVEN MONTH APPEAR ON SAME PAGE — MOST RECENT FIRST —  SCROLL DOWN FOR PAST DATES.
THURSDAY / AUGUST 2, 2018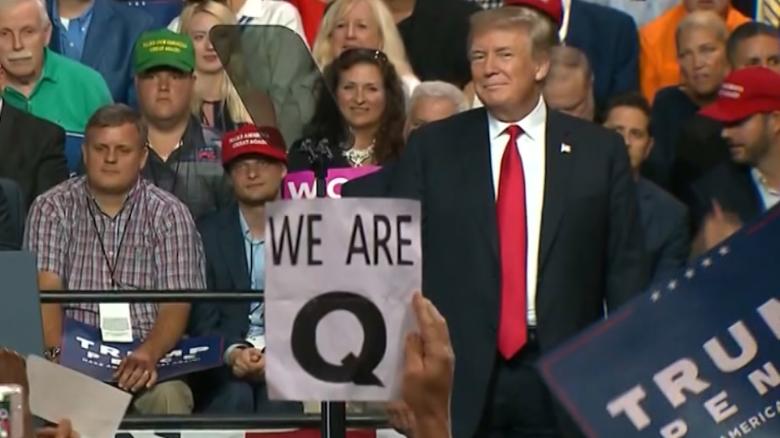 NY Times: What Is 

QAnon

: Explaining the Internet Conspiracy Theory That Showed Up at a Trump Rally

NY Times: 

QAnon

, Manafort, Trump – The New York Times

NY Times: Who Is 

Q

? Behind Conspiracy Theory Erupting at Trump Rallies

NY Times: The Strange Case of 

Q-Anon
Son of a gun!
As we reported to "youse guys" on the 1st of July, in a response to a Slimes hit piece on the Q-Anon movement, Q-Anon clearly stated that the phenomenom was about to become publicly known in July after operatives force it into the open, presumably at a press conference. And now, lo and behold, Q-Anonism — as a direct result of White House Press Secretary Sarah Huckabee Sandersactually being asked about Q-Anon (the set-up which Q clearly said was coming) — is flooding into the "mainstream." Q's promise was true, albeit off by just a few days.
Q Anon is now too big to kill with the silent treatment. The full frontal attacks have begun! 

From our ANYT issue of July 1, 2018:
***EXCERPT***
Never before has Q put himself on the spot to this degree — which means that we should all know within the next month or two if indeed the top-level Satanic pedo-monsters of the New World Order are about to be taken down "worldwide." Have a look at the recent Q-posts below and see what we mean about the sudden and surprising level of Q's specificity. Also linked down below is a webpage containing all of the posts by Q and other various "Anons" going back to 2017.
The good news to report is that, one way or the other, the suspense over Q will, according to Q himself, all be over very soon. In language that is no longer even remotely cryptic or coded, Q has in recent days put himself on the spot by promising that the final "fireworks" are set to go off, starting in July, after the Trump-Putin summit. Again, according to Q, the revelations, set to come out in a very public way, will "terrify" an American public that will be "lost" and in need of "guidance" from us when it all comes out."
In addition to the multiple attacks on Q-Anon from "the paper of record," (in online articles only) other big guns of the international Fake News, seeing the smoke signal for war rising up from Manhattan headquarters, are now also firing away at will. From August 1 alone:
CNN: How a Right Wing Conspiracy is Going Mainstream
CNN: Q is the One 

Conspiracy Theory to Rule Them All

CNN: Conspiracy Theory Group Appears at Trump Rally

The Guardian (UK): What Is Q-Anon?
The Independent (UK): What is Q-Anon? The Origins of the Bizarre Conspiracy Theory …
Rolling Stone: 

As QAnon Goes Mainstream, Trump's Rallies Are Turning Darker

MSNC: What is Q-Anon?

Washington Post: How Q-Anon Got So Big
Washington Post: As Bizarre QAnon Group Emerges, Trump Rallies Go from Nasty to Dangerous

Washington Post: A Deranged Conspiracy Cult Leaps From the Internet to Trump's Tour

Newsweek: What is QAnon? Conspiracy Theorists Showed Up to Support Trump 

Fortune Magazine: What You Need to Know About Far-Right Conspiracy QAnon

Inside Edition: Why Was the Letter 'Q' Everywhere at President Trump's Florida Rally?

USA Today: QAnon at Trump Florida rally: What the Q signs mean

NPR: What is Q-Anon? The Conspiracy Theory in Trump World

The Forward: Explained: What's Anti-Semitic About Q-Anon?
And more attacks are coming in by the hour from media giants in the U.S. and also across Europe. Now that's a whole lotta fire-power to be wastin' on some baseless "conspiracy theory" 
™, eh? Wethinks the journalistic jackals doth protest a bit too much, no? Here is how the pre-planned firestorm was triggered:
Reporter: Does the president encourage the support of people who showed up last night (Florida rally) in these Q-Anon and Blacks for Trump fringe groups. … and secondly, is the White House willing to say … that it is wrong to be menacing towards journalists doing their job?
Sanders artfully dodged the Q-Anon part of the question and stuck to generic platitudes about the importance of a free and accurate press blah, blah blah. We believe that the Q question, asked by the Daily Mail's David Martosko, was presented as adversarial when, in reality, it, like the Q signs at the Florida rally, was staged for the purpose of injecting Q-Anon directly into a White House press conference. Martosko was, after all, the previous executive editor of Tucker Carlson's very pro-Trump website, The Daily Caller.
David Martosko works for Trump! His question — presented in an adversarial manner (part of the ruse) — was planted for the purpose of drawing the Piranha Press into a frenzy, and that's why Ms. Sanders called in him (Image 3).
Posted down below is an image of the relevant Q post, dated June 28, which told us that today's "ultimate question" about Q-Anon was coming. Q-Anon is now a force of nature that can no longer be ignored by the Piranha Press. The problem is, that in trying to destroy it, the Fake News brings "more eyes" to Q-Anon and all the evil which he (or them) have been posting about for the past nine months — Soros, Rothschild, Satanism, child rape, child murder, human trafficking, corruption, bribery, assassinations, false flag attacks, treason, voter fraud etc.
Fasten your seat-belts, boys and girls. This could be something for the history books.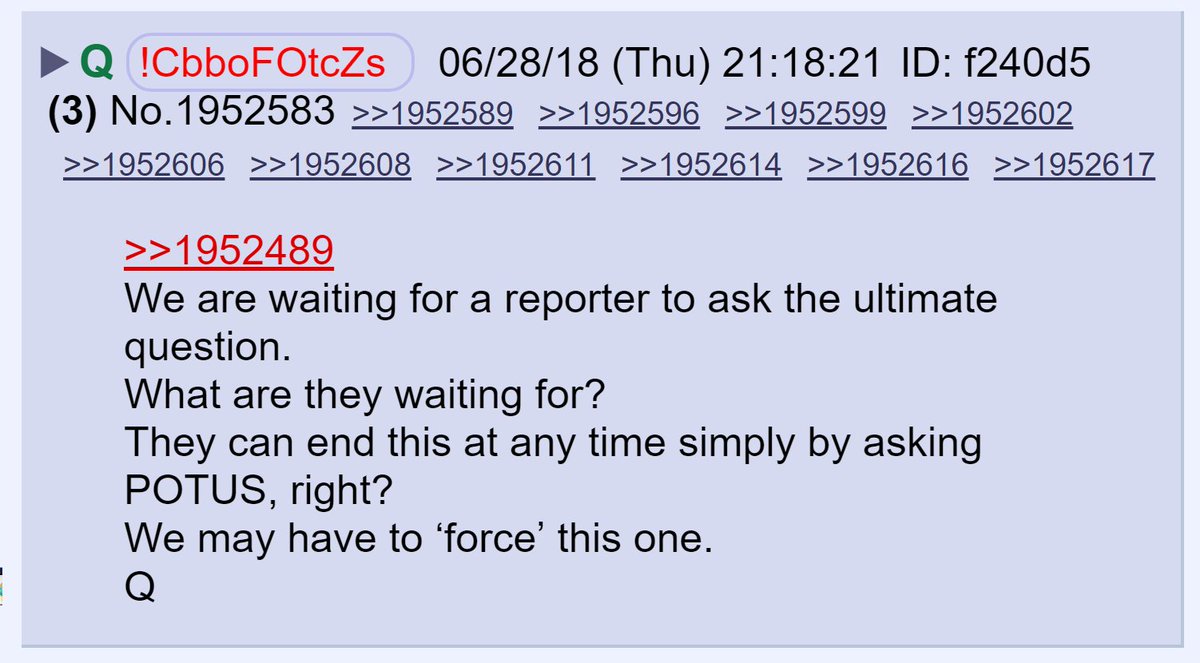 The Piranha Press has now been drawn in — well played, Q Team and Mr. 
Martosko and Ms. Sanders

, well played.
*
  Boobus Americanus 1: I read in the New York Times today about this bizzare right-wing conspiracy theory called Q-Anon. They believe that Trump is battling a conspiracy of anti-American criminals who have taken over the government, industry, and the media.
 Boobus Americanus 2: These Nazis really are crazy.

Sugar: You jusst wait and see what'ss frickin' coming, Boobuss! By the time the ssmoke ssettless on thiss, your political views will be to the right of mine.

Editor: Please God, let this be real.

COMMENTS / FEEDBACK / INSULTS / KUDOS
E-mail: GreatTomatoBubble2@gmail.com