ZIONIST Israel/Palestine News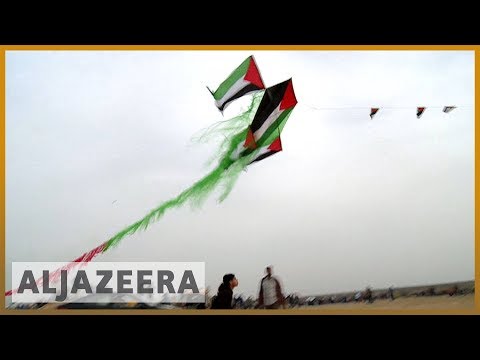 SPUTNIK – Last year, Israeli Prime Minister Benjamin Netanyahu admitted that Tel Aviv develop "secret contacts" with Saudi Arabia despite the fact that the two countries have no diplomatic relations (…) With Riyadh rejecting allegations about bolstering its relations with Tel Aviv, Saudi Crown Prince Mohammed bin Salman recognized Israel's right to exist earlier this year. CONTINUE READING

BY JONATHAN COOK – Israel's priority was to keep Gaza locked down with a blockade and its two million inhabitants invisible.
Now Israel is facing a new and apparently even tougher challenge: how to stop Palestinian resistance from Gaza using flaming kites, which have set fire to lands close by in Israel. F-16 fighter jets are equipped to take on many foes but not the humble kite.
For Israelis, these various innovations by Palestinians are widely seen as part of the same relentless campaign by Hamas to destroy their country. Israel's public security minister Gilad Erdan called last week for anyone flying a kite, even young children, to be shot. He and other ministers have argued that another large-scale military assault on Gaza is necessary to create what Mr Erdan has termed "durable deterrence". CONTINUE READING

TIMES OF ISRAEL – Prime Minister Benjamin Netanyahu and Transportation Minister Israel Katz agreed this week to begin promoting their "Tracks for Regional Peace" initiative that is intended to create a trade route connecting Europe with the Persian Gulf and Israel, Hadashot news reported Saturday evening.
"Tracks for Regional Peace" is based on the planned extension of railway tracks in northern Israel, which would link Haifa's seaport to Jordan's rail network, which in turn will be linked with that of Saudi Arabia and other Sunni Arab states.

IFC – "Instead of declaring their failure and defeat in Syria, and (recognize) that the State will remain, as well as the President and the (Syrian) Army, and that the organizations they have supported in recent years are about to disappear, Israel wants to falsify the (real) meaning of the battle, and now, Netanyahu, Lieberman and other are discoursing day and night (pretending) that the battle in Syria aims to kick out Iran and Hezbollah from Syria. We accept this battle. We accept it. But before turning the page and opening this new chapter, you should first acknowledge, O Zionists, that you have been defeated in Syria, you have failed to bring down the pillar of the Resistance camp in the region, your hopes on terrorist groups were scattered to the four winds. Acknowledge that, and then, we could open a new page for the (alleged) battle you have entitled 'Kicking out Iran and Hezbollah from Syria'. CONTINUE READING

IMEMC – This is not the first time that the British Labour Party has vowed to recognize Palestinian sovereignty. Most recently, after narrowly losing the 2017 election to Theresa May's Conservative Party, Corbyn himself spoke in favor of Palestinian statehood. CONTINUE READING

IMEMC – "I am doing this so we always remember our homeland and the oppression of the occupation. Because the occupation is not firing flowers at us. It is firing death at us. As the saying goes, they plant death for us, and we reap life. We are people who aim for life. We have a message". CONTINUE READING