Klayman: Rosenstein Must Be Removed Immediately
Klayman: Rosenstein Must Be Removed Immediately!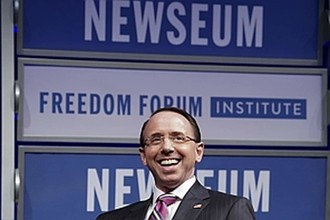 By Matt Zapotosky
Washington Post
May 2, 2018
Deputy Attorney General Rod J. Rosenstein took aim Tuesday at Republican lawmakers who have drafted articles of impeachment against him, saying that he would not comment on documents "that nobody has the courage to put their name on" and asserting that he will not change his behavior in the face of threats.
"I think they should understand by now that the Department of Justice is not going to be extorted," Rosenstein said. "We're going to do what's required by the rule of law, and any kind of threats that anybody makes are not going to affect the way we do our job."
Support Our Cause and Join Our Fight!
Your help is urgently needed!
More on Rosenstein:
 My Comment:  He SHOULD BE IMPEACHED!  HE IS TRYING TO OVERTHROW A LEGITIMATELY ELECTED PRESIDENT WITH LIES.  THIS IS PERJURY, MALFEASANCE, SEDITION AND TREASON.
If I'm not mistaken, Israel currently has a "Nationality Law" (aka Loyalty Law) that prohibits individuals with dual citizenship from being Knesset members. In order to have Israeli citizenship one has to swear to be loyal to Israel first.
Since the 40 members of the US Senate & and House(1) now have Israeli citizenship, they have sworn to be loyal to Israel first.
Unfortunately, not only US Senators & Congressmen are policy makers whose first loyalty it to Israel.(2)
Because so many of America's politicians & policy makers are Zionist "Israel Firsters" I think that it is unlikely that we will see any essentially necessary initiative to
expel these ethically compromised individuals from office to make way for policy makers whose loyalty is to America's best interest first.
(1) "U.S. SENATORS & CONGRESSMEN WITH DUAL CITIZENSHIP WITH ISRAEL"
http://www.informationclearinghouse….l-congress.jpg
(2) "Members in US politics who hold dual US/Israeli citizenship: (2013)"