WeAreChange
---
Alleged Hacker Lauri Love Wins Extradition Appeal
Posted: 05 Feb 2018 10:30 AM PST
Lauri Love has won his legal battle against being extradited to the US over alleged cyber attacks. Mr Love is a 33-year-old British national who, through his mother, also has Finnish nationality. The High Court ruled that Love should be tried in Britain after Lord Chief Justice Lord Burnett and Mr Justice Ouseley heard he suffered from severe mental illness and would be in danger of committing suicide if extradited to the US.
VICTORY: @LauriLove wins UK appeal against US extradition. Congratulations to Lauri, his lawyers & family, @CourageFound and many supporters on an excellent campaign.

— Julian Assange ? (@JulianAssange) February 5, 2018
One of the principal issues before the court was "whether his extradition would be unjust or oppressive by reason of his physical or mental condition" and "whether various rights guaranteed by the European Convention of Human Rights ["ECHR"] would be breached…" should he be extradited.
The court handed down the verdict that "Mr Love's extradition would be oppressive by reason
of his physical and mental condition."
The judgement didn't dispute that Love "suffers from eczema which he has had since birth, and which is a partly stress-related physical condition exacerbated by his mental health issues (…)." The court also accepted that Love has Asperger Syndrome (AS) which the judgement described as "a very severe disability because it causes him to become so absorbed in his interests that he neglects important areas of his life, such as his studies, and even his health (…)."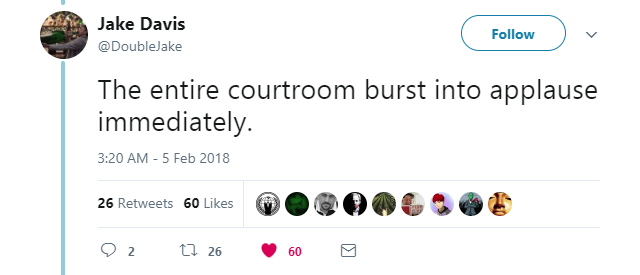 Professor Kopelman produced a third report on Love's mental fitness in relation to his incarceration in a United States facility and his standing trial there. Kopelman stated:
"There would be a severe deterioration in both his physical and his mental state. His eczema, his asthma, gastrointestinal symptoms, and palpitations, would certainly become far worse and he might lose his hair again (alopecia), thereby causing further deterioration in his mental state. Mr Love would not be able to cope with separation from his family and friends, nor would he cope with the likely isolation in a United States facility. His depression would become far worse and he would be very likely to develop psychotic symptoms (as he has during past severe depressions). His suicide risk would become very high as a result of the exacerbation of his clinical depression and a deterioration in his physical health."
The judgment stated that keeping Love on suicide watch while in the US was not a satisfactory reason to allow the extradition:
"Suicide watch is not a form of treatment; there is no evidence that treatment would or could be made available on suicide watch for the very conditions which suicide watch itself exacerbates. But once removed from suicide watch, the risk of suicide as found by the judge, cannot realistically be prevented, on her findings."
What did Love have to say about the judgement?
"First of all I'd just have to express my deep gratitude for everybody in this room, everybody who is not in this room who has shown support, just friends, family, people in the press. I have to say its fundamentally important that you have the interest of the press when there is a chance of injustice because its much easier to get away with doing things the wrong way when there aren't people looking so you're (the press) rather fundamental. I have to give thanks to my legal representation who have been fantastic and supportive of me and I'm not the easiest person to represent because I have a tendency to have my own ideas and not necessarily think they're worse than other people's so they've put an amazing amount of effort in."
Love went on to thank all of the UK MP's who put aside partisan disagreements to have a consensus on fundamental values such as compassion, understanding and accommodation. He gave special thanks to MP Barry Sheerman, who has campaigned for Love in the House of Commons. Love also wished for people to be more understanding about AS and how it effects people. Love said:
"There are many ways to be a human. We don't have to force everyone to be exactly the same. This is fundamentally important."
@laurilove speaks at press conference on the appeal court decision to bar the extradition request which Love a fought the last 3years. pic.twitter.com/qblbiDAPWi

— Niels Ladefoged (@NielsLadefoged) February 5, 2018
What is Love accused of?
On July 15th 2015, Mr Love was arrested pursuant to a warrant, issued following certification of the three extradition requests but has been on bail since then.
Mr Love is accused in three indictments that between the period October 2012 to October 2013, he, working with others, made a series of cyber-attacks on the computer networks of private companies and United States Government agencies (including the US Federal Reserve, US Army, US Department
of Defence, Missile Defence Agency, NASA, Army Corps of Engineers, Department of Health and Human Services, US Sentencing Commission, FBI Regional Computer Forensics Laboratory, Deltek Inc, Department of Energy, Forte Interactive, Inc) in order to steal and then publicly disseminate
confidential information found on the networks, including what is referred to as personally identifiable information.
It is further alleged Mr Love also carried out "SQL Injection Attacks" in which unauthorised access was gained to computer databases by manipulating "structured query language", computer programming language designed to retrieve and manage data on computer databases (the "SQL Injection Attacks").
Once inside the compromised computer systems, Mr Love and others placed hidden "shells" or "backdoors" within the networks. This allowed them to return and steal the confidential data.
What now for Lauri Love?
The judgement noted that "Mr Fitzgerald QC for Mr Love was at pains to emphasise that Mr Love did not seek impunity for the acts alleged against him, but contended that he should be tried and if
convicted, sentenced in the United Kingdom."
Speaking outside the court, Mr Love said he hoped he had set a "precedent so this will not happen to people in the future".
"I'm hoping that this outcome can contribute to the discussion we are having as a society about how to accommodate people that have neuro-diversity, whose brains are made up in a slightly different way," he said.
His father Alexander Love said: "This is a victory for justice. What makes Great Britain great is that we live in a place with wisdom and compassion."
The United States authorities now have 14 days to lodge a request for an appeal hearing at the UK Supreme Court.
The post Alleged Hacker Lauri Love Wins Extradition Appeal appeared first on We Are Change.