Germany condemns anti-Semitism & Israeli flag burning at pro-Palestinian rallies in Berlin (VIDEOS)
Germany condemns anti-Semitism & Israeli flag burning at pro-Palestinian rallies in Berlin (VIDEOS)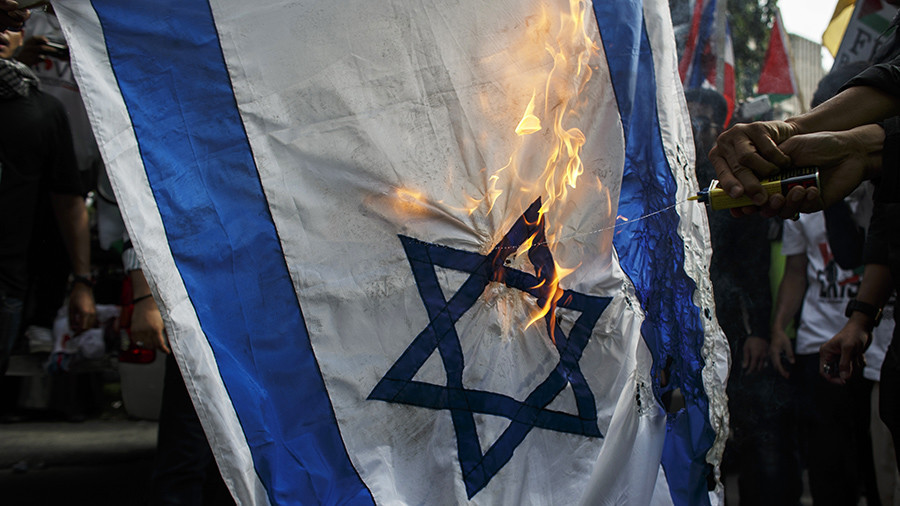 German authorities have strongly condemned the wave of anti-Israeli protests that have gripped Berlin for three consecutive days in response to Donald Trump's move to recognize Jerusalem as Israel's capital, saying anti-Semitism has no place in the country.
Israeli flags were once again burned during a pro-Palestinian demonstration Sunday, as more than 300 policemen watched a rally unfold in the Neukölln borough of Berlin under the slogan, "Jerusalem will always be the capital of Palestine."
Some 2,500 people waved Palestinian flags and carried placards denouncing the US and Israel. Anti-Semitic calls were heard in Arabic and German as Israel's Star of David flag was set alight. Burning a flag on its own does not constitute a criminal offense, unless it is attached to an embassy or public institution, police said. Officers detained eleven people from the vocal crowd before releasing them after writing up criminal complaints.
Sunday's rally was Berlin's third show of anger against Trump's move since Friday. Two flags had been burned at the start of the weekend in an anti-Israel rally in front of the American Embassy on Pariser Platz, which drew around 1,500 people. The enraged crowd chanted "Death to the Jews!" and "Jews, remember Khaybar, the army of Muhammad is coming again!" According to legend, Khaybar was a Jewish-populated oasis in Saudi Arabia, which was attacked and conquered by Prophet Muhammed and his army.
The crowd also shouted 'Allahu Akbar' (Allah is great), and "in spirit and in blood we will redeem you." In addition, several people dressed in Palestinian colors also waved Hamas flags, classified by the European Union and the United States as a terrorist group. Police said they arrested ten people Friday, citing 12 criminal charges.
Berlin's Mayor Michael Müller condemned the racial manifestations Sunday, saying police would break up any rally that leads to crime. "Anyone who abuses our freedom of expression for anti-Semitism and racism and sows hatred by burning flags, cannot use the protection of the right to demonstrate," said Müller. Anyone who "demonstrates peacefully and respectfully against political decisions will be able to exercise his good rights to demonstrations."
The intensity on display at Berlin's rallies was also condemned by the Jewish community and politicians across all political spectrums.
"When Israeli flags are burned in the heart of Berlin, it requires an unequivocal political response," Deidre Berger, director of the American Jewish Committee's Berlin branch, was quoted as saying by I24 news. "The protests must be clearly condemned. We expect the Federal Government and the Berlin Senate to express themselves clearly."
Interior Minister Thomas de Maizière (CDU) made clear that the burning of Israeli flags will not be tolerated in a country responsible for the Holocaust of over six million Jews under Nazi Germany.
"We do not accept when Jews or the State of Israel are insulted in this shameful way," de Maizière told Bild. Germany, is, "in a very special way connected to the state of Israel and all the people of the Jewish faith."
"Any form of anti-Semitism is an attack on all of us, anti-Semitism must never again have a place," Justice Minister Heiko Maas (SPD) meanwhile told the newspaper.
Foreign Minister Sigmar Gabriel (SPD) said despite the understandable anger at the US decision to recognize Jerusalem as the capital of Israel, protesters had "no right or justification to incinerate Israeli flags, incite hatred of Jews or question Israel's right to exist." Whoever does this, "not only opposes Israel, but the constitutional order of our country," he added.
"The Jewish faith [in Berlin] should feel at home here and safe. Germany has a special responsibility for Israel, and anti-Semitic hate propaganda will no longer be tolerated in Berlin," said Alexander Graf Lambsdorff, of the Free Democratic Party (FDP).