NEW HARVEY WEINSTEIN ACCUSER SOBS AS SHE CLAIMS MOVIE MOGUL 'RIPPED OUT HER TAMPON AND RAPED HER' IN HIS CHILD'S BEDROOM
REPORT FROM DAILYMAIL
Mimi Haleyi claims that she was raped by Harvey Weinstein in 2006 when she paid him a visit at his Soho loft
'He wouldn't take no for an answer and backed me into a room which was not lit, but looked like a kids' bedroom with kids' drawings on the walls,' said Haleyi
Weinstein then ripped out her tampon and proceeded to perform oral sex on her according to the victim  
The two had met a few years prior, and Haleyi had recently wrapped up work on a TV project produced by the Weinstein Company 
'I remember Harvey afterwards rolling over onto his back and saying "don't you feel we're so much closer to each other now?" I replied "no,"' said Haleyi 
Haleyi has not reported any crime to police, but the alleged incident did occur after New York abolished the statute of limitations on first-degree sexual assault
A new woman has come forward claiming that she was raped by Harvey Weinstein.
Mimi Haleyi claims that she was visiting Weinstein at his New York City loft back in 2006 when the 65-year-old executive forced himself on her.
The young woman said she tried to shoot down Weinstein's repeated sexual advances by telling him she was menstruating, but he eventually overpowered her and shoved her onto a bed in his child's bedroom.
'He wouldn't take no for an answer and backed me into a room which was not lit, but looked like a kids' bedroom with kids' drawings on the walls,' said Haleyi.
'He held me down on the bed, I tried to get him off me and kept asking him to stop but it was impossible. He was extremely persistent and physically overpowering.'
At that point Weinstein ripped out her tampon said Haleyi, who had begun to openly weep.
'He then orally forced himself on me while I was on my period. I was mortified. I was in disbelief,' said Haleyi, accompanied by her attorney Gloria Allred.
'I would not have wanted anyone to do that to me even if that person had been my romantic partner.'
She then added: 'I remember Harvey afterwards rolling over onto his back and saying "don't you feel we're so much closer to each other now?" I replied "no."
Weinstein was divorced from his first wife and in a relationship with Georgina Chapman at the time.
CONTINUE READING HERE
(Gee…Ben Franklin was right…Jews really are like Vampires…)
SEE ALSO –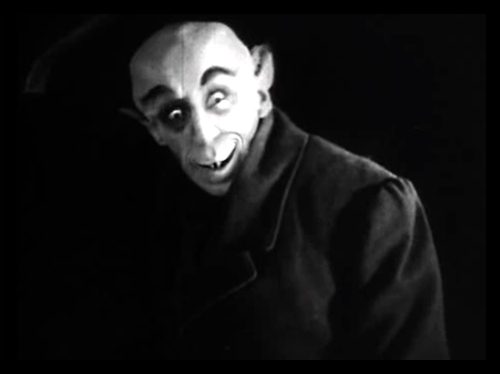 COME ON ! JUST LOOK AT THAT SCHNOZ !
WILL PEOPLE NOW BELIEVE COREY FELDMAN ABOUT (((HOLLYWOOD ABUSERS))) ?

REPORT FROM THE NEW YORK POST
For years, Corey Feldman has been adamant that he and childhood friend Corey Haim were victims of molestation in Hollywood, and that predators remain. Yet he's been treated as though he's reporting alien abductions. Feldman may have been easily dismissible from a career standpoint — even he's admitted so — but his accounts have never wavered. Still, his story has been treated with dubiousness if not outright contempt.
Look at a 2013 clip from "The View." A sad, calm Feldman tells Barbara Walters, "I'm saying . . . the people that did this to both me and Corey, that are still working, they're still out there and they're some of the richest, most powerful people in this business. And they do not want me saying what I'm saying right now."
Walters fairly clutches her pearls. "Are you saying that they're pedophiles?" she asks.
"Yes," Feldman says. As he went on to warn parents of hopeful children, Walters chastised him.
"You're damaging an entire industry!" she said.
Yes, Corey Feldman makes the painful public pronouncement that he and Haim were molested repeatedly, plenty in Hollywood knew, that it still goes on, and Walters defends an industry that still reveres (((Woody Allen))) and (((Roman Polanksi))).
Would anyone talk to a female rape victim like that? Will anyone listen to Feldman now?
As recently as 2016, Feldman testified to The Hollywood Reporter that he and Haim were repeatedly molested as child stars.
"All these men were all friends," Feldman said of the perpetrators. "Ask anybody from our group of kids at that time. They were passing us back and forth to each other."
Feldman also detailed such abuse in his 2013 memoir "Coreyography," and he and Haim addressed it on their A&E reality show "The Two Coreys."
Feldman has said Haim's experience was worse. "He had more direct abuse than I did," he told THR. "With me, there were some molestations, and it did come from several hands, so to speak, but with Corey, his was direct rape."
In his book, Feldman writes that Haim was raped at age 11 on the set of the 1986 film "Lucas," which co-starred up-and-comers Charlie Sheen and Winona Ryder.
"The man who had stolen his innocence," Feldman writes, " . . . walks around now, one of the most successful people in the entertainment industry, still making money hand over fist."
For legal reasons, Feldman says he cannot name names. "Unfortunately California conveniently enough has a statute of limitations that prevents that from happening," he told THR, adding that the onus is on lawmakers to rectify that — "especially because this is where the entertainment industry is and this is a place where adults have more direct and inappropriate connection with children than probably anywhere else in the world."
"I can tell you that the No. 1 problem in Hollywood was and is and always will be pedophilia," he told Nightline. "That's the biggest problem for children in this industry . . . It's the big secret."
RELATED –