Another Nobel Peace Prize Winner Involved in Genocide [Obama Was the First One]
by Admin ·
UN chief warns of 'last chance' for Aung San Suu Kyi over Rohingya crisis
Burmese leader 'must make the carnage stop'
Click to follow
The Independent Online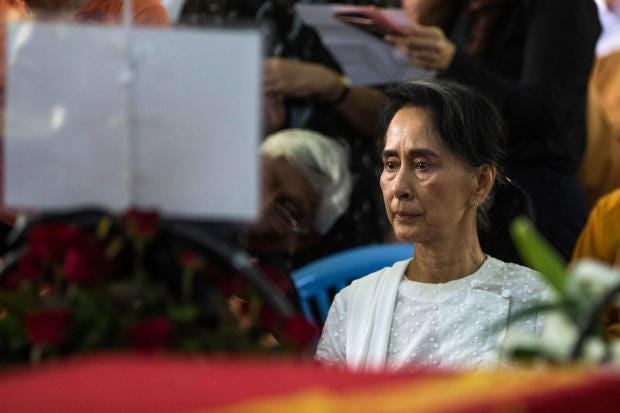 Burmese leader Aung San Suu Kyi has a "last chance" to halt the Rohingya crisis which the United Nations has described as "ethnic cleansing", the organisation's Secretary-General has said. Antonio Guterres said Ms Suu Kyi, still has the "opportunity" to "make sure the carnage stops".
"I would expect that the leader of the country would be able to contain it, and would be able to reverse the situation," Mr Guterres said in a BBC interview. "She has a chance, she has a last chance, in my opinion, to do so."
Otherwise, he said, "the tragedy will be absolutely horrible."
Ms Suu Kyi  a recipient of the Nobel Peace Prize, is facing growing pressure over Burma's military crackdown on the ethnic group, which has seen hundreds of thousands of Rohingya flee the country.
In an address to the nation on Tuesday, Ms Suu Kyi is expected to speak about the situation, her spokesperson said.
She is not attending the UN General Assembly, taking place at the moment, and is staying in Burma to try and "control the security situation", a government official said.
An estimated 410,000 members of the Rohingya Muslim minority have fled from western Rakhine state to Bangladesh to escape a military offensive that the United Nations has branded a "textbook example of ethnic cleansing".
Those fleeing the country have been photographed climbing over barbed wire border fences to escape, and reports have emerged of landmines being placed at border areas to prevent the Rohingya from returning.
In Bangladesh, aid agencies are worried they don't have the capacity to deal with the huge influx of refugees, most of whom are arriving hungry and without clothes or supplies.
Last week, two women and a child were killed in a stampede for aid at a refugee camp in Cox's Bazar, Bangladesh, and another three people were killed on Friday amid a stampede at in the city's Balukhali Pan Bazar area as aid supplies were being thrown from lorries.
"Many people are arriving hungry, exhausted and with no food or water," Mark Pierce, Bangladesh country director for the Save the Children aid agency said in a statement.
"I'm particularly worried that the demand for food, shelter, water and basic hygiene support is not being met due to the sheer number of people in need. If families can't meet their basic needs, the suffering will get even worse and lives could be lost."
Bangladesh has for decades faced influxes of Rohingya fleeing persecution in Buddhist-majority Burma, where the Rohingya people are regarded as illegal migrants.
The country was already home to 400,000 Rohingya people before the latest crisis erupted on 25 August, when Rohingya insurgents attacked police posts and an army camp, killing a dozen people.
Human rights monitors and fleeing Rohingya people say the Burmese security forces and Rakhine Buddhist vigilantes responded to the 25 August insurgent attacks with a campaign of violence and arson aimed at driving out the Muslim population.
But Ms Suu Kyi's government has rejected the claims, saying its security forces are carrying out clearance operations against the insurgents of the Arakan Rohingya Salvation Army (ARSA), which claimed responsibility for the August attacks and similar, smaller, raids in October.
The Burmese government has declared the ARSA a terrorist organisation and accused it of setting the fires and attacking civilians.
Agencies contributed to this report.