Petition to Sign For Anti-Abortion Laws
The Moral Outcry
Monday, August 28, 2017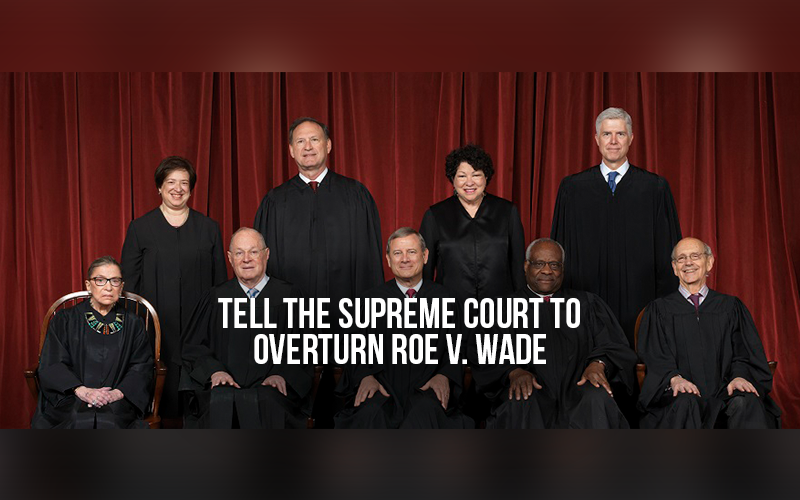 Dear Reader,
The American Family Association has partnered with The Moral Outcry in petitioning the U.S. Supreme Court to overturn one of the most devastating high court cases in American history, Roe v. Wade.
Roe v. Wade, which was decided in 1973, is known as the landmark case which legalized abortion across the United States.
In the 1992 landmark case Planned Parenthood v. Casey, the U.S. Supreme Court had an opportunity to reverse Roe v. Wade, and its companion Doe v. Bolton. In conference the justices voted 5-4 to overturn Roe and Doe, but at the 11th hour before the opinion was released a centrist coalition of moderate judges – including Justice Kennedy who switched his vote – was formed to write a compromise that would weaken the Roe and Doe decisions, but still leave abortion as the law of the land.
What might have happened that day if more pro-life voices had been heard? What if a massive moral outcry had emerged from the American people?
This petition will serve as a symbol of that moral outcry. It will wake up the nation and galvanize the national conscience to end the scourge of abortion in America. It will declare that as a people, we do not accept the compromise that leads to the unnecessary death of millions of innocent babies.
Take action: Sign the petition to the Supreme Court letting them know that you want Roe v. Wade overturned.
If our mission resonates with you, please consider supporting our work financially with a tax-deductible donation. The easiest way to do that is through online giving. It is easy to use, and most of all, it is secure.