Who Really Won the UK Election?
---
UK General Election: Did The Globalists Win?
Posted: 09 Jun 2017 05:27 PM PDT
The UK 2017 General Election has resulted in a hung Parliament with the Conservatives winning 318 seats and Labour 261. Since no party managed to win the necessary 326 seats to make a majority on their own, the options are to either form a coalition to create a majority or operate as a minority government.
The result has been seen as a failure for the Conservatives since in the 2015 General Election the Tories won 331 seats, comfortably beating Labour's 232. Speaking after visiting Buckingham Palace, Theresa May said only her party had the "legitimacy" to govern, despite falling eight seats short of a majority.
In 2010, no one party managed to win the necessary 326 seats, there was a hung parliament, so the Conservatives and Liberal Democrats formed a coalition.
Jeremy Corbyn has hailed Labour's "incredible result" and has called for May to resign. The Liberal Democrats' Tim Farron also called on May to quit. The Scottish National Party or SNP will work with others to keep the "reckless" Tories out "if at all possible".
Theresa May's government will carry on Brexit negotiations to the existing timetable.
Who Are The DUP?
The Tories are forming a coalition government with the controversial Democratic Unionist Party or DUP, to "provide certainty" and keep the country "safe".
The Democratic Unionist Party are a socially conservative party in Northern Ireland. They're anti-abortion and also oppose same-sex marriage. They have a history of climate change denial and in 2011 five of their MPs called for the return of the death penalty. They are also Theresa May's only option to retain power.
DUP are natural bedfellows of the Conservative party. Britain backed loyalist terrorist groups supported by the DUP in the North of Ireland. pic.twitter.com/AAcsyTZeBY

— Crimes of Britain (@crimesofbrits) June 9, 2017
Almost 300,000 people have signed a petition against the Tory-DUP deal in just 12 hours.
Are The DUP Connected To Saudi Arabia?
It appears that the DUP are connected to Saudi Arabia and have, in the past, received a donation of £425,622. The DUP used some of this money to produce a four-page glossy propaganda supplement urging readers to vote Leave in the Brexit referendum. The supplement cost a staggering £282,000.
A party with close links to Saudi-ISIS also.https://t.co/ZRTVbD8uDq

— Revolution? (@Revolution_IRL) June 9, 2017
Celestine, a popular geopolitical analyst, didn't seem at all surprised by the coalition.
British State is probably the largest terrorist organisation in the world so a collusion w/ terrorist supporting groups isn't that shocking

— Celestine (@CelestineBee) June 9, 2017
The Occupied North of Ireland
An interesting and important development is that 'Northern Ireland' as a term has been thrown back into the spot light…
The term 'Northern Ireland' is becoming normalised. There's only one Ireland with 6 of its counties still being deemed as British property

— Celestine (@CelestineBee) June 9, 2017
…and a general reminder of how Britain colonised other countries.
Condemn the DUP all day & rightfully so but don't act like they're not the symptom of the British Governments colonialism in Ireland

— Celestine (@CelestineBee) June 9, 2017
Problem Reaction Solution
It has been a difficult time for the people of the UK who have had three terrorist attacks in quick succession in the run up to the election.
— Anonymous (@Anon_Emy) June 8, 2017
This has made people frightened. The Conservative mantra was "Strong And Stable".
He never votes but due to these recent terror attacks in the UK, the mainstream media convinced him Theresa May will keep us safe & secure.

— Lex Loopington (@lex_looper) June 8, 2017
May's calls to regulate the internet in response to the terrorist attacks have not been popular.
It would be hysterical if Corbyn won and Theresa May was out, if only to highlight how retarded she is on net regulation and campaigning.

— Styxhexenhammer666 (@Styx666Official) June 9, 2017
How Do Americans View The UK Election
Photos and videos like this are all over the internet showing the apparent replacement of the native population. This has caused alarm in some people in both the UK and in America. For many in the UK this just isn't their everyday reality, yet, depending on location.
This picture wasn't taken in Islamabad but in Trafalgar Square, London. The politicians have conspired to replace Europeans with immigrants. pic.twitter.com/0nWOwR95cK

— Mark Collett (@MarkACollett) June 9, 2017
Voting is a difficult decision and its frustrating that there is no 'perfect' party.
/pol/ expressed concern for the UK in this tweet which hit us right in the feels.
MASSIVE WIN AGAINST THE MAINSTREAM MEDIA
Large servings of humble pie are being consumed all over the UK today. Nowhere more so than by the members of the media. Owen Jones who writes for the Guardian, like many other journalists, were forced to eat their words.
Jack Xatzinikolas, a popular British writer, journalist and activist who has campaigned over poverty issues, particularly hunger relief and has published a blog and several books of "austerity recipes", made this humble tweet.
My sincerest congratulations to @jeremycorbyn – I misjudged you, I underestimated you, and I greatly look forward to working with you.

— Jack Xatzinikolas (@MxJackMonroe) June 9, 2017
Marcus Brigstocke the English comedian, actor and satirist also apologised.
I didn't think Corbyn's team could deliver this. I was wrong. I apologise to those I dismissed. Sorry.
I am devouring humble pie gratefuly.

— Marcoooos! (@marcusbrig) June 9, 2017
Bernie Sanders understands that the people of the UK will only tolerate a government that won't invest in public services for so long. People saw the destruction of the NHS and went to vote.
Styx, the popular geopolitical analyst, gave his opinion of the two candidates.
Prime Minister Theresa May is a deluded wannabe thatcher and her opponent is a Krugman-looking socialist cretin.

— Styxhexenhammer666 (@Styx666Official) June 4, 2017
Did the Americans Think British Nationalism Featured In The Election?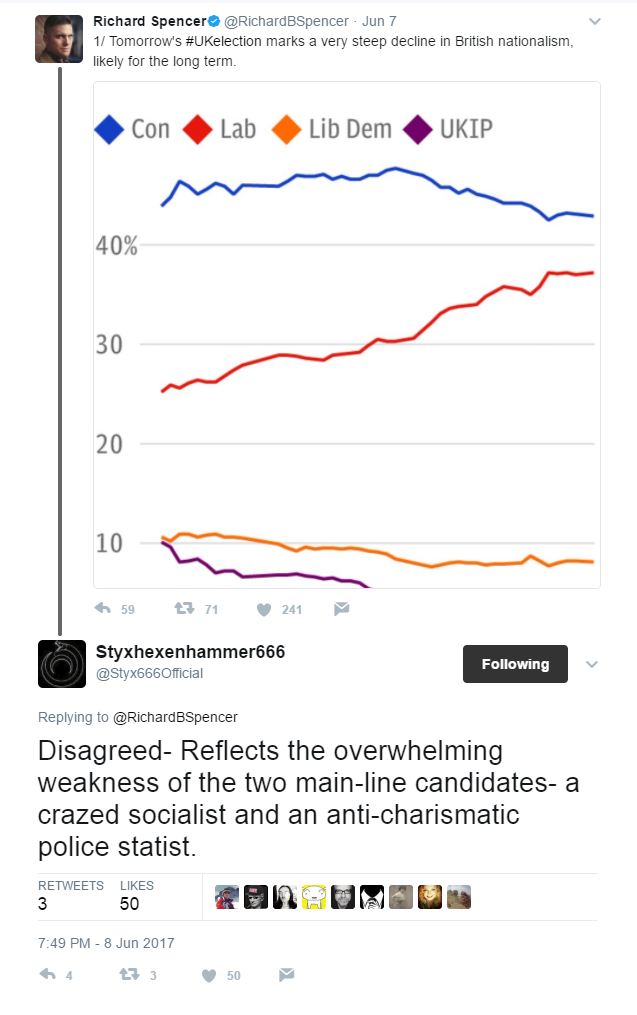 Unrepresented some felt:
What Happened To Nigel Farage and the UK Independence Party?
UKIP is a Eurosceptic and right-wing populist political party. On July 4 2016, Farage announced his resignation as leader of UKIP, triggering a leadership election. Eventually Paul Nuttall succeeded Farage but resigned after the election since UKIP won no seats this time.
This update just in!
It is thought that Brits living in the South do not take Nigel Farage very seriously and he is not well liked or respected but thought of more favourably by those living in the North of the country. The fact that Trump endorsed Farage holds little weight with some, since the MSM convinced them Trump is sexist and racist. Farage is also believed to be fully racist, by some at least.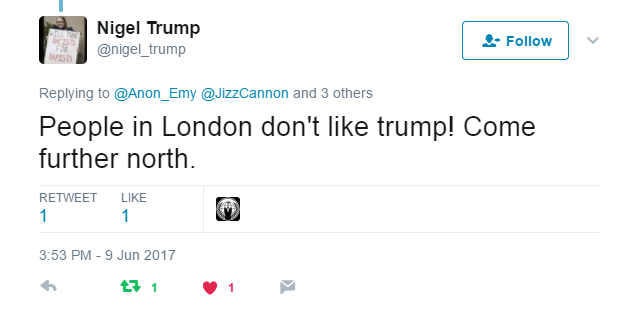 In 2015, UKIP won 3.8 million votes and had only one elected MP in the House of Commons. However the party came second in 120 constituencies. Advocates for electoral reform said, at the time, that the outcome exposed the limitations of the first-past-the-post system, prompting urgent calls for a change to the way Britain votes.
Britain has not implemented proportional representation yet.
Styx has voiced support for UKIP.
Who knows, if the UK public think the new government isn't taking Brexit seriously, perhaps Farage will gain some support. Farage gaining support, at some point in time, certainly can't be ruled out.
People seem to think Farage is the only politician who dislikes the EU. Corbyn also attacked the European Union.
Corbyn has never liked the EU that's something remainers fail to grasp pic.twitter.com/PD266mLqzq

— Freedom ?? (@KnightsWhoGoNi) June 9, 2017
Check out this old video of Corbyn calling out the EU!
— Freedom ?? (@KnightsWhoGoNi) June 9, 2017
Let us know what you think in the comments. Would you vote for Nigel Farage?
---
Patreon https://www.patreon.com/WeAreChange?a…
SnapChat: LukeWeAreChange
Facebook: https://facebook.com/LukeWeAreChange
Twitter: https://twitter.com/Lukewearechange
Instagram: http://instagram.com/lukewearechange
Rep WeAreChange merch proudly: https://wearechange.org/store
OH YEAH since we are not corporate or government WHORES, help us out: https://wearechange.org/donate
We gratefully accept BITCOIN too:
12HdLgeeuA87t2JU8m4tbRo247Yj5u2TVP
The post UK General Election: Did The Globalists Win? appeared first on We Are Change.
VIDEO: Exclusive Interview with Youngest Bilderberg Attendee Ever- Boyan Slat of Ocean Cleanup
Posted: 09 Jun 2017 02:01 PM PDT
 While in Virginia at Bilderberg 2017, Luke Rudkowski scored a sit-down interview with the youngest ever official attendee at Bilderberg- Boyan Slat of the Ocean Cleanup.  His first meeting with Boyan had very different circumstances..  Luke politely ambushed him at the airport as he was on his way to the Bilderberg meeting.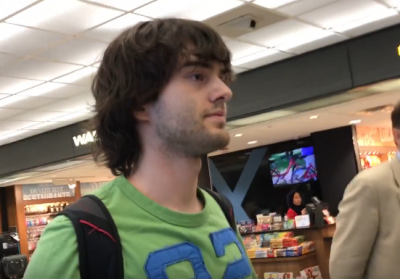 Boyan founded  Ocean Cleanup when he was only 19.  OC's goal is to rid the world of the plastic accumulated in many areas of the world's oceans.  The inspiration for his idea first arrived when he was 16. He was driving in Greece, saw tons of plastic in the ocean and thought 'Why don't we clean this up?!'
There are an estimated 5 trillion pieces of plastic polluting our oceans.
Boyan said he got his invite to Bilderberg a few weeks ago, and researched it some it before he accepted.  He said what he found was interesting, and he recognizes that there are upsides, as well as downsides to interacting with these types of people. The opportunities for networking and getting his projects funded were too good for him to pass up.
He said "It felt like many other meetings..  It was just a group of people talking over long days and discussing topics… my hypothesis is that they like to keep the secrecy around it, also just as a PR tool themselves.  For me the useful things were the cocktail reception.. having the drinks, etc.  Other than that it was talking, listening, sessions, that sort of thing."
The Chatham House rule for privacy is enacted at Bilderberg: "..they want to foster open conversation,.. You can use the information being shared but not to disclose who said it- and sort of the context." Boyan said that was the only limitation he's recieved so far regarding the meetings.
He says he felt it was in the interest of Oceans Cleanup for him to be there: "It's not every day you get the opportunity to present an environmental technology to these people." Luke mentioned that Bilderbergers and their ilk often don't have best interests of fellow humans, or our environment in mind.
Boyan said his company is developing methods to remove plastic from the ocean, and is largely accumulating in five areas of the world called ocean garbage patches resulting from the oceanic gyres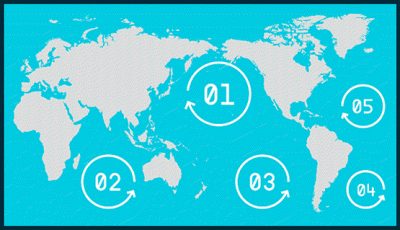 Ocean gyres are large systems of circular ocean currents formed by global wind patterns and forces created by Earth's rotation

The most well-known patch is between Hawaii and California-  an accumulation zone covering a fairly large area. The plastic littering oceans weighs around 10K times more than the sea life itself, and many species of ocean creatures are suffering.

Because the oceans are so vast, collecting all of the plastic is difficult.  the trash hard- but the ocean cleanup thought why not take advantage of the fact that the plastic moves around.

His company is invented a series of large floating booms that capture the plastic.  They attach a large anchor at a depth of 600 meters which creates drag for the system so that it moves slower than the plastic and therefore collects it.  He thinks they can cleanup half the Pacific garbage patch in five years time.
Here's an animated projection of the cleanup
Boyan's ideas went viral a few years ago, which allowed him to raise the initial capital via crowdfunding and he recently built the first system.  They have deployed prototypes and now they are ready to deploy the first one early next year.  Boyan doesn't think the company could have been built earlier without the technologies of crowdfunding and social media.. it's really a project of the times and the internet.
Boyan says there needs to be some sort of revenue stream, you don't want to be a bottomless pit, that needs money and donations forever.  The plan is to partner with companies and individuals who can buy or sponsor their own cleanup systems. He has a plan to recycle the plastic at a premium, so that products can be marketed as coming from ocean plastic.  That's how he sees being economically viable and self sustainable.
Luke asked him "How did the Bilderbergers respond to your project?" Boyan tried to do a lot of networking and there were a few members that seemed like they may want to get involved, he felt like he was very much the odd one out, as most attendees were middle-aged or older.  It was an interesting exercise and he thinks a few good relationships were started but it's too early to see what comes out of it.  He says "It's a thousand times better having people like this support you than having them against you. These are not all bad people, they are wealthy and powerful, if we use it in a good way it can actually help causes like mine, it's just about funneling it to the right things."
In general he thinks it's necessary to convert civilization of the last century to one that will still be around in the next century. He thinks it's most effective to support the solutions, as it's an arms race between good and bad technologies. For example, there are talented people making Hydraulic fracturing (fracking) more efficient- and on the other side there are people making solar and wind power cheaper.
He thinks it's a responsibility of the smart people in the world to work on the things that are right.  Activism in this century won't be the classic protesting marches and activism of the past, it will be more of entrepreneurship and creating what you want the world to be.  He hopes his company can be a symbol for that.
Thanks so much to all who donate and support us!
Worldwide uncensored coverage you can't get from the MSM is empowering humanity.
We love BITCOIN too : ) 12HdLgeeuA87t2JU8m4tbRo247Yj5u2TVP
FACEBOOK * TWITTER * INSTAGRAM
SNAPCHAT: LukeWeAreChange
The post VIDEO: Exclusive Interview with Youngest Bilderberg Attendee Ever- Boyan Slat of Ocean Cleanup appeared first on We Are Change.
VIDEO: Trump Attacks Iran, MSM Goes After Philip Defranco – What the Hell Really Happened
Posted: 09 Jun 2017 01:39 PM PDT
In this 'What the Hell Really Happened' video, Luke highlighted some of the current news that goes far beyond the diversions that MSM is constantly pushing.
Starting with the 50 year anniversary of the attack on the USS Liberty by the Israeli government that killed 34 Americans and wounded another 171. It's an event still shrouded in mystery with many questions unanswered, and unseen classified documents (that the NSA refuses to release). Many believe that it was a false flag attack in order to get the United States into the Israeli war that was taking place. A perspective that you won't hear about on MSM, or read about in school history books.
As the deaths of Americans are ignored, the MSM orchestrates attention to the latest testimony of ex FBI director James Comey. This days-long obsession has inspired countdown clocks and bars opening up early to have watch parties of the distracting dud. The MSM is rehashing another trusty diversion- the impachement of Trump, and ignoring the atrocities being carried out by the U.S. Government. One of which is potentially starting a war with Iran.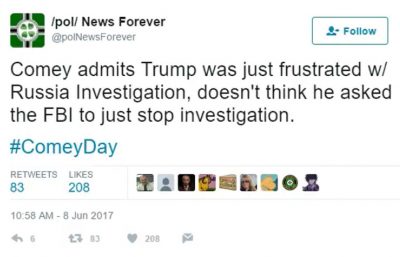 On June 7th Iran suffered a terrorist attack that reportedly killed 17 people in one of their holiest sacred places, with ISIS claiming responsibility. Iran is blaming Saudi Arabia- the largest exporter of Sunni Wahhabism and Islamic extremism throughout the Globe ( and yet they have the support of Trump. )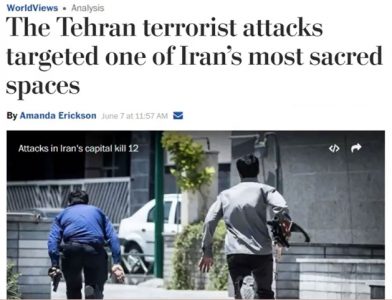 You would think that after such a major tarrorist attack there would be # PrayForIran hash tags all over social media and buildings displaying the colors of the Iranian flag. Nope, the white house released a condescending statement blaming the victims of the attack on Iran.

It's important to understand the greater context here. Recently Saudi Arabia and 5 other nations closed their borders with Qatar. Qatar requested Iran's assistance, and right after, the June 7th terrorist attack in Iran, which Iran blames on Saudi Arabia.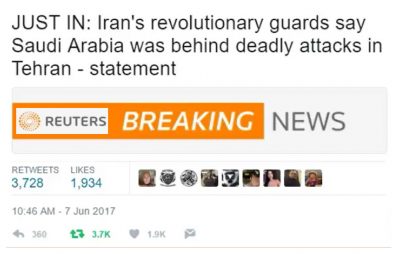 This leaves the tiny nation of Qatar- cut off from most of the world. Turkey offered military support, Iran is offering food and use of it's ports.. other nations are also helping them. These events indicate a major Middle East storm brewing that's already started causing damage that's splitting major alliances in the Middle East.

Saudi Arabia is making demands and has issued an ultimatum to Qatar listing 10 demands that must be met in 24 hours "or else." This "else" will probably come in the form of more economic sanctions and possibly even armed conflict with this tiny nation state. We see lines in the sand being drawn with Turkey, Iran, Qatar, Russia, standing against Saudi Arabia, Egypt, the UAE, Israel and of course the United States who's backing them.
All of this is taking place while there is already a hot war raging in Yemen (which is another proxy conflict of Saudi Arabia and Iran), with the United States and Saudi Arabia fighting alongside Al Queda who are fighting Houthi rebels funded by Iran. This is another hot war that sits along side a powder keg of tensions that could erupt at any time and drag the Middle East and the world into war.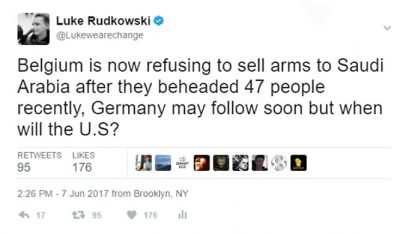 Considering all of this, what the hell are the U.S. Government and Donald Trump doing aligning with countries like Saudi Arabia- an ideological, political, and economic sponsor of terrorism to the extreme. They detain women for simply wanting to drive a car. 14 Shia protesters are facing execution for just wanting to be heard by their government. But the U.S. Government- financed by your taxes, will probably keep covertly financing the same people that keep attacking and killing innocent people all over the planet.
As we touched on before, declassified documents are coming to light right revealing how the U.S. Government knowingly armed ISIS and claimed that the weapons were lost. Last week we reported on more weapons, equipment, and vehicles being lost inside the Middle East, probably ending up in the hands of ISIS but now we are getting to documents that are actually proving this is happening on purpose with taxpayer money.
Talking about emotional manipulation and programming, Philip Defranco just released an amazing video about how the mainstream media wrote a hit piece about him in the Verge and Fortune magazines. He ultimately exposed another set of lies told by the old dinosaur media who is threatened by him and anyone else making the mainstream media obsolete. This is definitely a must watch video and can be found HERE
It will show you how low down, dirty, and pathetic the old media is and how ultimately this is a great sign for everyone else because it is showing how the new media is becoming more effective every single day. They see us as so much of a threat that they resort to lies and tricks to try and remove us instead of just doing their job of covering stories honestly.
Thanks so much to all who donate and support your independent news services!
PATREON   <–2 support us–>  WRC
We love BITCOIN too : ) 12HdLgeeuA87t2JU8m4tbRo247Yj5u2TVP
FACEBOOK * TWITTER * INSTAGRAM
Check out Luke's blog on STEEMIT
SNAPCHAT: LukeWeAreChange
The post VIDEO: Trump Attacks Iran, MSM Goes After Philip Defranco – What the Hell Really Happened appeared first on We Are Change.