Zionist Kissinger: "Military Men Are Dumb Stupid Animals to be Used as Pawns in Foreign Policy"
---
VIDEO: KISSINGER AT WHITE HOUSE SIGNALS A BIGGER SCANDAL THAN COMEY
Posted: 12 May 2017 10:57 AM PDT
In this video, Luke looks back through decades of U.S. foreign policy and a familiar pattern of foul play in the theater of war is seen. With the U.S. repeating similar insanity that seems geared more towards unending war, than the stated outcome. Is it a coincidence that Henry Kissinger was an instrumental influence in the Vietnam quagmire and now rears his ugly head in the White House as the Syria situation gets worse by the day?
A quick reminder of what Kissinger is infamous for:
@realDonaldTrump And Henry Kissinger, aka the biggest unprosecuted war criminal in US history!

— Jules Suzdaltsev (@jules_su) May 11, 2017
Some disturbing quotes by Kissinger. These give you an idea of the kind of person he is!
"The illegal we do immediately. The unconstitutional takes a little longer." — Henry Kissinger pic.twitter.com/fKDkLl1zbG

— Ernie Svenson (@ernieattorney) May 12, 2017
Henry Kissinger was famously once quoted saying that the number one priority of US policy should be depopulation.

— Esoteric Exposal (@EsotericExposal) May 8, 2017
"Military men are dumb, stupid animals to be used as pawns for foreign policy." ~ Henry Kissinger

— trutherbotred (@trutherbotred) May 5, 2017
People on the left have been keeping a close eye on Trump's movements. Some claiming them to be suspicions in light of the allegation of collusion with Russia. Google Louise Mensch for more information.
Official Trump timeline:
??Fired FBI director

??Met with Russians next day, shut out US media

??Meets with Henry Kissinger

— Daniel Hensen (@iceblademan) May 10, 2017
Others think there is no basis to the allegations.
@carolinaliar There's nothing to expose. The FBI has said over and over that there was no trump Russia collusion. Get over it!

— Cassandra Fairbanks (@CassandraRules) May 9, 2017
Watch Luke confront the infamous war criminal Kissinger in this video:
War Criminal Henry Kissinger confronted on #Bilderberg and Mass Murder https://t.co/E7ZM7YfEab

— Agenda Of Evil (@AgendaOfEvil) May 12, 2017
If you liked today's content, please consider donating to us. We have a team working behind the scenes, not just Luke.  YouTube and Google Adsense are both severely hindering our ability to keep this operation going. We won't be able to continue to bring you broadcasts like this without your support. You can donate here on the website or on our patreon. Thank you and remember We Are Change.
---
Visit our MAIN SITE for more breaking news https://wearechange.org/
PATREON https://www.patreon.com/WeAreChange
SNAPCHAT: LukeWeAreChange
FACEBOOK: https://facebook.com/LukeWeAreChange
TWITTER: https://twitter.com/Lukewearechange
INSTAGRAM: http://instagram.com/lukewearechange
STEEMIT: https://steemit.com/@lukewearechange
OH YEAH since we are not corporate or government WHORES help us out https://wearechange.org/donate
We take BITCOIN too 12HdLgeeuA87t2JU8m4tbRo247Yj5u2TVP
The post VIDEO: KISSINGER AT WHITE HOUSE SIGNALS A BIGGER SCANDAL THAN COMEY appeared first on We Are Change.
VIDEO: WHO DID DONALD TRUMP JUST ALIGN HIMSELF WITH, PISSING OFF A MAJOR NATO ALLY?
Posted: 12 May 2017 08:35 AM PDT
Recently Donald Trump made a geopolitical move that's pissed off a very powerful and influential member of NATO- Turkey. By aligning with one of Turkey's enemies- the Kurds, and deciding to give them heavy weapons. This move will not only shake up Syria, but also the middle east.
In this video, Luke is joined by Syrian Girl (Mimi Al Laham) for a breakdown on who the Kurds really are.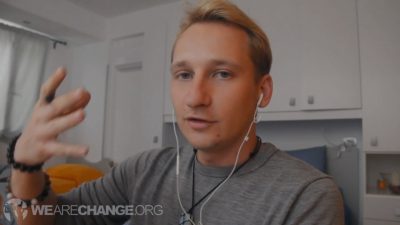 Mimi tells us there are two types of Kurds in Syria.. one is a small minority of a few thousand who came there about 700 years ago from Iran and have assimilated into Syrian society. Then there's the majority who arrived in Syria much more recently- mostly in waves as refugees from Turkey's uprisings from the 1920's through the 1960's. The majority speak their own Iranian-Persian dialect.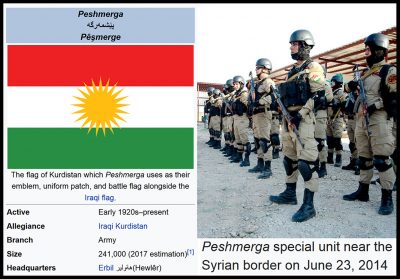 The Kurds are the only group who get pro-Kurdish media coverage from all sides- saying they're fighting ISIS, and protecting Christians and other minorities. The media also advocates for a Kurdish ethnocentric state.  1.6 million Kurds are trying to take over 30% of Syria, while making up less than 8% of the population (22 million people in Syria are not Kurdish).
Christians in Iraq say that The Kurdish Peshmerga militia are coming to their towns, demanding that they either give up their weapons and 'be protected from ISIS', or keep their weapons and pay them.  As soon as ISIS comes to town, the Peshmerga leave, leaving them without weapons and vulnerable to attacks.
The Kurdish Regional government in Iraq has also been expelling Syrian Christians from their homes, and then bulldozing them. The Kurdish YPG is similarly disarming Assyrian Christians, leaving them open to attacks by ISIS, and are being pushed out. These actions are all part of a Kurdish agenda to create an ethnocentric state.
The U.S. has been labeling the PKK a terrorist organization for decades, and now they admit to fighting alongside them. Liberals have been getting behind the ethnocentric Kurdish state, because the media paints the picture that the Kurds in Syria are oppressed, stateless, have female fighters, and are communists.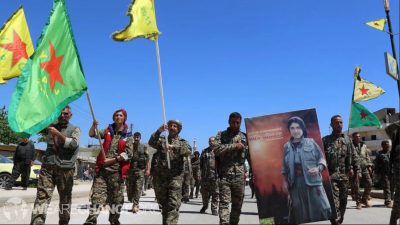 The U.S. are going along with this because and the Kurdish will cooperate with the agenda of any imperialist power that assists them in taking over land.  It's probably no coincidence that the northeast region of Syria is very oil rich.  Israel also supports the Kurdish ethnocentric state.
Find more from Mimi Here, https://www.youtube.com/user/SyrianGi…
Visit our MAIN SITE for more breaking news https://wearechange.org/
PATREON https://www.patreon.com/WeAreChange?a…
SNAPCHAT: LukeWeAreChange
FACEBOOK: https://facebook.com/LukeWeAreChange
TWITTER: https://twitter.com/Lukewearechange
INSTAGRAM: http://instagram.com/lukewearechange
STEEMIT: https://steemit.com/@lukewearechange
OH YEAH since we are not corporate or government WHORES help us out https://wearechange.org/donate
We take BITCOIN too
12HdLgeeuA87t2JU8m4tbRo247Yj5u2TVP
The post VIDEO: WHO DID DONALD TRUMP JUST ALIGN HIMSELF WITH, PISSING OFF A MAJOR NATO ALLY? appeared first on We Are