We Are Change Mail
---
Rand Paul Hunts for Obamacare Replacement Plan Held in 'Secure Location'
Posted: 02 Mar 2017 11:44 AM PST
Senator Rand Paul made a valiant effort to seize a copy of the House GOP's Obamacare replacement bill from a room in the Capitol on Thursday, where it is being kept under lock and key, hidden away from even their own party's lawmakers.
The bill is currently stored in a locked room in the Capitol, only available to members of the House Energy and Commerce committee. In response to an early version of the bill being leaked to the press, no one is allowed to remove a copy from the reading room. Party leaders claim that a copy will be made available after it has been finalized.
I have been told that the House Obamacare bill is under lock & key, in a secure location, & not available for me or the public to view.

— Senator Rand Paul (@RandPaul) March 2, 2017
"This is unacceptable. This is the biggest issue before Congress and the American people right now," Paul tweeted Thursday morning.
I am heading to the secure location where they are keeping the House obamacare bill. I will demand a copy for the American people.

— Senator Rand Paul (@RandPaul) March 2, 2017
The Kentucky Senator, determined to make the information public, then stormed his way into the reading room, showing up at the door with his own photocopier and demanding that he be allowed to make a copy.
.@randpaul wasn't allowed to see the House GOP's Obamacare bill. Brought his own copy machine, just in case. pic.twitter.com/KpAXhfltsV

— Eli Yokley (@eyokley) March 2, 2017
"I said I liked to get a copy and they said no go. She wouldn't tell us anything really," Paul told reporters after his thwarted attempt. "Even if I were allowed to look at it, which it didn't look like I was, how is that democracy?"
.@RandPaul outside the "secret office for the secret bill." pic.twitter.com/fY8BAVqwvd

— Eli Yokley (@eyokley) March 2, 2017
Paul asserted his belief that the healthcare-replacement document is being kept secret because it is "Obamacare-lite," and not a full-scale repeal that conservatives have been hoping for.
"Renaming and keeping parts of Obamacare, new entitlements and extending medicaid expansion are not the #FullRepeal we promised," he tweeted.
The Senator has vowed to fight for a full repeal-and-replace plan promised by President Donald Trump, but will not fight for less. He has also asserted that he has been told that the draft of the bill will be "take it or leave it."
"Senator Paul believes the American people deserve to see this bill. He will fight for real repeal, not Obamacare lite," the Senator chief strategist Doug Stafford told Sputnik News.
When asked if Paul had any additional plans to "free the documents for the American people," Stafford told Sputnik News to "stay tuned."
Just helping out @RandPaul. #ReleaseTheHounds #WheresTheBillpic.twitter.com/LrooyMFWA0

— Nancy Pelosi (@NancyPelosi) March 2, 2017
Democratic Representative Paul Tonko, a committee member, also stated that he was turned away from reading the bill, and was told that it is not yet available.
---
Originally published on Sputnik News.
The post Rand Paul Hunts for Obamacare Replacement Plan Held in 'Secure Location' appeared first on We Are Change.
Amazon Outage Illustrates the Interconnected Nature of the Internet
Posted: 02 Mar 2017 10:36 AM PST
The internet is a tool that many people rely on to support themselves in today's world. A recent 4-hour outage at Amazon illustrated how interconnected the internet can be, as over a hundred thousand other websites were affected by the temporary outage.
You might think that when one website fails, the rest of the internet wouldn't be affected. Due to an array of reasons, this isn't true at all, and the failure of one website can be devastating on the entire internet.
Since the Amazon Web Service is the largest provider of internet computing services, over 100,000 websites rely on their servers to help them avoid investing in their own. As a result, websites like Spotify, Netflix, Instagram, Vine, and much more experienced problems caused by recent failures of the Amazon cloud service.
A cloud analyst was reported to say that the outage was "Either a bug in the code or human error. Right now we don't know what it was." However, since websites can also back up files locally, it wasn't necessarily a panic for many of the websites affected by the outage.
Other sites like the Arlington County of Virginia Website did not have protections against this, and went out altogether. Perhaps this can be a lesson for the future that all files should be backed up locally if you have a website using the Amazon Web Service.
This isn't the first time this sort of event has happened in recent history. In October 2016, a cyberattack caused Amazon Web Services to experience connectivity issues, resulting in a similar occurrence. Then in 2015, Amazon Web Services went down for five hours. It seems that these outages are starting to become a routine occurrence, with an array of different causes.
With increased centralization of the internet beginning to occur, this sort of problem could have devastating effects on an internet which has a centralized server. It would be then possible for the entire internet to be affected by the failures of a centralized server, making this Amazon outage look miniscule in comparison.
The post Amazon Outage Illustrates the Interconnected Nature of the Internet appeared first on We Are Change.
Russian Jets Nearly Bomb U.S. Forces In Syria, Hit U.S.-Backed Rebels
Posted: 01 Mar 2017 06:36 PM PST
Article via Zero Hedge
Russian and Syrian jets nearly hit U.S. forces in northern Syria on Tuesday when they attacked positions held by Syrian Democratic Forces, a US ally in the ongoing effort to expel the Islamic State from Syria, the top U.S. commander in Iraq and Syria said Wednesday.
The Russian and Syrian planes, apparently, had seen some ISIS forces recently move out of the area and hit the U.S. proxies thinking they were ISIS forces. The Syrian Arab force took casualties, but the Russian planes peeled off once their American counterparts used a long-established hotline to warn them they were bombing friendly forces. American advisory forces were fewer than five miles away, but were unharmed.
As Stripes reports, the targeting of the Syrian Arab Coalition in the hamlets to the south and east of al-Bab on Tuesday appeared unintentional and quickly ceased, once nearby U.S. troops alerted the Russians about which group had been hit, said Army Lt. Gen. Stephen Townsend, the commander of the Operation Inherent Resolve coalition.
The Syrian Arab Coalition makes up about 60% of the Syrian Democratic Forces – the United States' proxy force fighting the Islamic State group in Syria.
"I believe [the Russians and Syrians] thought [those villages] were held by [the Islamic State group], but who was actually on the ground were some of our Syrian Arab Coalition force," Townsend told reporters at the Pentagon in a briefing from his headquarters in Baghdad. "As the regime and [Turkish forces] advanced on those villages, the [Islamic State group] fighters withdrew and the Syrian Arab Coalition fighters advanced into those villages."
While Townsend said the Syrian Arab Coalition forces suffered casualties in the attacks, he did not say whether anyone was killed or how many fighters were injured.
As Foreign Policy adds, what happened today is a situation that U.S. commanders have been trying to avoid since Russia deployed dozens of aircraft to Syria in late 2015. Currently there are about 500 American troops are on the ground training Syrian Arab and Kurdish fighters in northern Syria in the runup to the assault on the ISIS stronghold of Raqqa, and the Russians have shown themselves to be indifferent over who, or what, they strike with their unguided bombs.
The jumbled mess of competing forces in and around al-Bab has increased the likelihood of mistakes or miscalculations. Turks, their Free Syrian Army allies, ISIS, Syrian regime forces, and the U.S.-backed Syrian Arab Coalition and Kurdish forces are "literally within hand grenade range of each other," Lt. Gen. Stephen Townsend told reporters at the Pentagon Wednesday.  Al-Bab was liberated last week from the terrorist group by Turkish forces – backed by some 50 U.S. airstrikes – after months of fighting.
Townsend, who commands U.S. forces in Iraq and Syria, said these groups are "bumping up against each other" around the city, adding "three armies and an enemy force have all converged within the same grid square, so it's very difficult and complicated" to know just who is where.
"It's the most complicated environment or situation I've been in in my entire life," he said.
Townsend urged the Russians, Syrians, Turks and U.S.-backed forces to all focus on fighting the Islamic State group, because it threatens everyone inside Syria and elsewhere. "That's what we should all keep our efforts focused on and not on fighting the [other] liberators accidentally – one another," he said.
That said, the Russian and Syrian strikes did not endanger any American troops in the area. There are some 500 U.S. special operators working as advisers to anti-Islamic State forces in Syria. Some of the U.S. troops were within about five miles of the airstrikes Tuesday, Townsend said. After observing the attacks, the American troops alerted the coalition who contacted the Russians through standard communication lines that the two forces use to ensure flight safety over Syria.
The general sought to tamp down tensions, saying that "the coalition is encouraged" by the progress against ISIS by the Turkish military and their proxies. He added that the U.S. asks "all forces to remain focused on the counter-ISIS fight and concentrate their efforts on defeating ISIS, and not toward other objectives that may cause the coalition to divert energy and resources away from Raqqa."
As Stripes adds, it is not the first time the communication line, which officials have said is used daily to ensure Russian and coalition warplanes maintain safe distances in Syria, has been needed to stop the wrong target from being bombed. Russia blamed a U.S. airstrike near Deir al-Zour in eastern Syria for the deaths of more than 60 Syrian regime forces in September. Russian officials contacted the coalition using the communication line, but they did not immediately report that Syrian troops had been hit. The Russians later informed the coalition that it had bombed Syrian forces and the attack was halted.
Meanwhile, Russia denied everything and according to RT, neither Russian nor Syrian air forces had bombed positions of Syrian Arab coalition fighters supported by Washington in Syria on Tuesday, Russia's Defense Ministry said, rejecting the accusations of the US commander. The Russian military in Syria had been contacted by their American counterparts, who "expressed concern" that Russian and Syrian aircraft could "carry out an unintended strike" at positions of Washington-backed fighters during an anti-terrorist operation, the Russian ministry said.
"To avoid any incidents, the US representative has provided exact coordinates of the US-backed opposition forces in the region to a Russian officer," the ministry said in a statement on Wednesday, adding that the information was "taken into account" by the Russian military.
"Not a single air strike on the regions specified by the US side was conducted by Russian or Syrian air forces," the statement said.  The defense ministry also said it would continue "effective cooperation" with the US military through established channels in order to fight the Islamic State (IS, formerly ISIS/ISIL) terrorist group in Syria.
---
This article first appeared on ZeroHedge.com and was authored by Tyler Durden.
The post Russian Jets Nearly Bomb U.S. Forces In Syria, Hit U.S.-Backed Rebels appeared first on We Are Change.
Florida Cops Test Out New Gun Cameras To Build Community Trust
Posted: 01 Mar 2017 04:50 PM PST
The St. Petersburg Police Department is testing a gun mounted camera. The small camera fits on the rail under a barrel normally used for flashlights and other devices. The camera is activated every time it's pulled out of the holster and records exactly where the weapon is pointed. It's WIFI and Bluetooth connected and sends its location to commanders and nearby officers, alerting them to the situation.
Last year, there were 205 incidents in which officers with the St. Petersburg Police Department drew their weapons. The city is the 5th largest in Florida and had 20 homicides in 2015. The department already uses dash cameras in traffic vehicles, transport vans and in a gang unit.
The company who makes them, Centinel Solutions, says:
"The Centinel Solutions Shield Police Gun Camera can provide a more complete picture of officer-involved shootings that other systems cannot. By combining the first-person point-of-view perspective with advanced recording and storage software, the Shield Camera ensures unobstructed justice for law enforcement and the community."
The city and the department is considering cameras in order to build trust, said Anthony Holloway, Chief of Police with the St. Petersburg Police Department in Florida.
"People want to hold police officers accountable and know that the way force was used was appropriate," said Ron Brooks, a former California cop with 38 years' experience who now runs consulting firm Brooks Bawden and is advising Centinel on their marketing strategy.
Centinel Solutions says:
"Our communities and our officers shouldn't have to rely on bystander smartphones to capture the true story of officer-involved shootings. The Shield Police Gun Camera has one objective: to easily and accurately capture the circumstances of a use-of-force event from start to finish. Where other camera systems fall short, the Centinel Solutions Shield Camera excels by providing officers and citizens with a better, unobstructed perspective during crucial moments without hindering an officer's ability to act."
Gun-mounted cameras are a part of the estimated $1 billion annual U.S. market for law enforcement camera hardware and software.
"We're in the business of having an unbiased tool which can solve one of the most contentious problems in the U.S. right now," said Centinel CEO, Max Kramer.
Though the devices themselves cost roughly the same as body cameras — several hundred dollars apiece — the video transmission and storage costs are substantially lower, since the cameras are recording much less footage, said Holloway. That means far less video for police departments to transfer, store and protect.
Cameras on guns provide a better point of view than body-worn cameras, since they are usually aimed directly at the suspect and are less likely to be blocked when an officer shields their torso behind something, say proponents of the technology.
Along with the camera, the system includes an app, compatible with iOS and Android devices and a portal which can be logged into. Centinel explains:
"The Shield App allows officers to easily report critical engagements in real time to your portal, capturing important metadata, and transferring them into advanced analytics for both the community and the full spectrum of your deployment."
Privacy and security experts have warned about the possibility of police systems getting hacked, evidence tampering, over-policing in certain communities and a future in which facial recognition technology might be added onto police cameras.
As human beings, we go to all this time and trouble to develop a reliable camera that can attach to a gun, an app and a portal we can sign into but we don't discuss why this is necessary. It is distinctively creepy that we have casually created an app to accompany our gun as if we were downloading the latest update for Snapchat.
Why do we carry guns and what purpose to they serve for the community? There are countries in Europe where the police do not carry guns and the citizens would not want to need to carry a gun.
Regardless of which side one falls on the gun ownership issue, perhaps we should think about what kind of culture we want instead of putting up with the one we have been given.
This technology and the social norms supporting its use only perpetuate the idea that we should continue using guns and shooting each other. This isn't logical. No amount of technological development and gadgets can obscure the fact that in 2017 we are still violently attacking each other in a dystopian scenario.
No amount of cameras is ever going to make that our best option in life. A violent culture in not inevitable. It is a choice. This may sound crazy but perhaps stopping shooting each other is the best way to gain back trust in each other.
The post Florida Cops Test Out New Gun Cameras To Build Community Trust appeared first on We Are Change.
Immigrant Detained After Bold Press Conference About Her Fears of Deportation
Posted: 01 Mar 2017 04:06 PM PST
An immigrant who let her legal status lapse was detained by Immigration and Customs Enforcement in Mississippi, following a press conference where she spoke about her fears of deportation.
Daniela Vargas, 22, spoke at a press conference organized by local immigration attorneys, churches and the Mississippi Immigrants Rights Alliance outside Jackson City Hall on Wednesday morning. Following the event, a friend who was giving Vargas a ride was pulled over on the highway and the young woman was detained.
Vargas was part of the Deferred Action for Childhood Arrivals program after coming here with her family from Argentina when she was seven years old, but her status recently expired. Her attorney claims that they had already filed to renew it, and that her status is "pending." Under the terms of the program, recipients must reapply for their "Dreamer" status every two years.
Her attorney, Abby Peterson, told the Clarion-Ledger that ICE agents told her that her client is a VISA overstay.
In February, Vargas' brother and father had been detained by ICE agents as she hid in the closet of the home. After being discovered by agents, she was handcuffed, but later released.
Vargas remains in ICE detention without a bond option.
Last month, the Department of Homeland Security issued a new set of instructions to Customs and Border Protection and ICE to increase the deportations, as laid out in President Donald Trump's executive order.
The memo, sent out by DHS, ordered the immigration agencies to take a hard stance with undocumented immigrants by immediately identifying, detaining, and deporting anyone they encounter that is not carrying the appropriate identification.
"Department personnel have full authority to arrest or apprehend an alien whom immigration officers have probable cause to believe is in violation of the immigration laws," the memo explains. "They also have full authority to initiate removal proceedings against any alien who is subject to removal under any provision of the (Immigration and Nationality Act)."
While those who are complying with their DACA programs are not currently at risk, the memo stated that the program "will be addressed in future guidance," leaving open the possibility for changes.
Spicer clarified during his news briefing last week that the DHS memo does not address DACA, but that does not mean that the President will keep the program in place.
Until potential changes to the program are announced, it would be wise for those who are concerned about being deported to spend more time submitting their documentation in a timely manner and less time holding press conferences.
The post Immigrant Detained After Bold Press Conference About Her Fears of Deportation appeared first on We Are Change.
The U.S. Warms Up To Trump: 3 In 4 Americans Approve Of Trump Address
Posted: 01 Mar 2017 03:46 PM PST
Article via Zero Hedge
In a new poll from CNN/ORC, more than 75% of Americans reacted positively to Trump's Tuesday night "Presidential" address to Congress.  Among those who watched the speech, 57% said they had a "very positive" response, while another 21% described their reaction as "somewhat positive."
President Donald Trump's first address to Congress received largely positive reviews from viewers, with 57% who tuned in saying they had a very positive reaction to the speech, according to a new CNN/ORC poll of speech-watchers.
Nearly 7-in-10 who watched said the President's proposed policies would move the country in the right direction and almost two-thirds said the president has the right priorities for the country. Overall, about 7-in-10 said the speech made them feel more optimistic about the direction of the country.

Ideologically, about two-thirds saw Trump's speech as about right, while roughly on-quarter (26%) pegged it as too conservative. Just 8% said it wasn't conservative enough.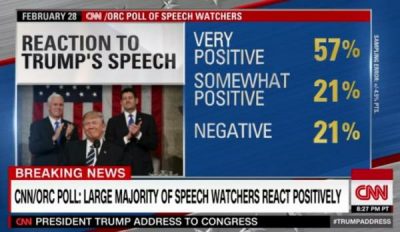 On the issues, CNN says that Trump scored the highest ratings on the economy and terrorism.
On specific issues, Trump scored the highest marks for his proposed policies on the economy, with 72% saying those went in the right direction. Almost as many, 70%, said the same about his terrorism proposals. Slightly fewer, but still a majority, felt his policies on taxes (64%), immigration (62%) or health care (61%) were heading in the right direction.
And, of course, Sean Spicer quickly shared the poll from "fake news" CNN via Twitter.
In @cnn poll 78% of @POTUS #JointAddress watchers say positive, 69% say policies will move country in right direction, 69% more optimistic

— Sean Spicer (@PressSec) March 1, 2017
Meanwhile, in a shocking first for the king of Democrat "oversamples", CNN said their poll included 509 Americans who watched Trump's speech, including an 8-point sampling advantage for Republicans.
---
This article first appeared on ZeroHedge.com and was authored by Tyler Durden.
The post The U.S. Warms Up To Trump: 3 In 4 Americans Approve Of Trump Address appeared first on We Are Change.
Marijuana to Create Nearly 300,000 New Jobs By 2020
Posted: 01 Mar 2017 03:24 PM PST
While uncertainty swirls about the Trump administration's stance on legalization, jobs in the marijuana industry are booming — and are even expected to outpace manufacturing jobs in the US by 2020.
According to the New Frontier Data's annual report, the 28 states which have some form of legalized marijuana will create nearly 300,000 jobs in the next three years. Their estimate only includes current states where it is legal, and does not include any states which may legalize medical or recreational usage during this time period.
According to the Bureau of Labor Statistics, jobs in the manufacturing industry are in the midst of a rapid decline. It is expected that there will be 814,000 manufacturing jobs lost by 2024.
It isn't just manufacturing that is being outpaced by the growth in the marijuana industry, the business of getting people high is also expected to surpass the utility industry, the service sector, agriculture, and the federal government when it comes to job creation in the near future.
"These numbers confirm that cannabis is a major economic driver and job creation engine for the U.S. economy," said Giadha Aguirre De Carcer, Founder and CEO of New Frontier Data. "While we see a potential drop in total number of U.S. jobs created in 2017, as reported by Kiplinger, as well as an overall expected drop in GDP growth, the cannabis industry continues to be a positive contributing factor to growth at a time of potential decline. We expect the cannabis industry's growth to be slowed down to some degree in the next 3 to 5 years, however with a projected total market sales to exceed $24 billion by 2025, and the possibility of almost 300,000 jobs by 2020, it remains a positive economic force in the U.S."
The report comes at a time when the stance on marijuana by the Trump administration remains unclear. Earlier this week, the White House signaled a crackdown on the enforcement of federal drug laws — under which marijuana is still considered a controlled substance.
Attorney General Sessions has long expressed his opposition to legalized marijuana.
"I'm dubious about marijuana. I'm not sure we're going to be a better, healthier nation if we have marijuana sold at every corner grocery store," Attorney General Jeff Sessions said in a meeting with state attorney generals on Tuesday.
During Sessions' confirmation process however, he claimed that the enforcement of federal marijuana laws would not be a priority in the Trump administration. President Donald Trump had also campaigned on his belief that marijuana laws should be left up to voters in individual states to decide.
Given the Trump administration's focus on bringing new jobs to American workers, this is certainly an industry he may want to consider supporting.
The post Marijuana to Create Nearly 300,000 New Jobs By 2020 appeared first on We Are Change.
120 U.S. Generals and Admirals Just Sent Trump a Dire Warning About Diplomacy
Posted: 01 Mar 2017 03:20 PM PST
Article via The Anti Media
America's generals are talking turkey. But we're not talking about the well-known idiom for "speaking frankly" about a subject … although over 120 retired generals did just send a frank letter in response to a new State Department-slashing budget proposal by President Trump.
In that unusual military missive, a group of "former three- and four-star generals" led by "Retired Gen. David Petraeus, a former CIA director, and retired Adm. James Stavridis, the former NATO supreme allied commander," pled with lawmakers and yet another general, new National Security Advisor H.R. McMaster, to preserve State Department funding.
Why do these men of war want to make sure Trump doesn't gut diplomacy? Because they think it is "critical to keeping America safe," according to a report by CNN on the much-discussed letter.
Silly generals. Don't they know that Trump's $54 billion military budget increase — which all by itself equals 80% of Russia's total military budget — is all the diplomacy Uncle Sam's going to need in his blustery new world of nuclear domination? In fact, don't they know that their never-serving commander-in-chief actually knows more than they do? As ever, it appears that the generals are woefully behind Trump's tremendous curve.
Or are they?
Because the real turkey some generals are talking is Turkey … as in the strategically located Muslim-majority nation where America stores some of those tantalizing nukes Trump wants to stockpile. It's also where one of the world's many strongmen du jour is cracking down on his enemies in the press … along with many, many others.  And it's where the military has traditionally been the guarantor of the secular nation's often tenuous democracy. It's the type of role the military in the United States has (mostly) avoided over the course of American history. At least, that was until Donald Trump became commander-in-chief.
Now, in a mostly overlooked story, Politico has detailed the extent to which Trump's cabinet of generals has quietly formed a phalanx against the possible excesses of a man who has described himself as the "most militaristic person who will ever meet." According to Politico, the elevation of Sith Lord-wannabe Steve Bannon set off alarms among Trump's generals. That order also marginalized Joint Chiefs Of Staff Chairman Gen. Joseph Dunford. It left "the nation's highest-ranking military officer, without a permanent seat on the NSC's most senior body" and put Bannon in the all-important role of being the last person to have Trump's ear when Mr. Militaristic makes life and death decisions to use kinetic force.
As Politico's Patrick Granfield wrote (with thanks to additional reporting by the Associated Press), "it was on account of concern with these sorts of half-baked executive orders coming out of the White House that Mattis and Kelly arranged to have one of them in the country at all times during Trump's initial weeks in office."
Yes, you read that correctly. Former Generals Mattis and Kelly were alarmed enough by this turn of events to institute a fail-safe plan that made sure one of them was "in the country at all times" … just in case things went off the rails. As Garfield states all too clearly, "it shows that it is military leaders, albeit retired, who feel the need to guard against the overreach of a civilian executive. It's a phenomenon familiar to countries like Turkey or Egypt, but not the United States. Until now."
Yup, until now.
Frankly speaking, this notable insight into the generals' startling machinations fits a fairly clear pattern. Despite the understandable unease many expressed at Trump's obsession with collecting top brass, they've thus far been bulwarks against the excesses of the blaring bugle boy they've signed up to serve.
The key moment may have been the National Security state showing the door to the widely disliked Lt. General Michael Flynn. The Strangelovian Flynn was unceremoniously dumped because insiders didn't like his rosy "Russian to judgment" on Putin. Perhaps just as important, though, may have been his dangerous histrionics about Islam that were tantamount to declaring war on a religion. Coincidentally, it wasn't too shortly after Flynn "put Iran on notice" that the final leaks washed out his tenure.
The appointment of the widely-respected warrior-scholar Gen. H.R. McMaster to fill that vacancy signaled a big win for the people who know what it means to send people into combat. In fact, while the draft-avoiding Trump was enduring his own "personal Vietnam" by avoiding the lurid landmines of sexually transmitted diseases as he charged into the battlefield of Manhattan's nightlife, his new National Security Advisor was literally writing the book on Vietnam. And that's not the only way the two men are not on the same page.
Unlike Trump, McMaster pointedly said that the magic words "Radical Islamic Terrorism" not only lack supernatural implications but are counterproductive to the fight against terrorism. Even better, the head of Trump's Department of Homeland Security not only contradicted his boss when said he "regretted" the bungled rollout of the "It's Not A Muslim Ban" Muslim ban, but General John Kelly's DHS also sent a report to the White House contradicting the claim that the famous "seven countries" pose a risk to the United States, according to the Wall Street Journal.
But Trump knows more than the generals, right?
At least, that's what a senior administration official believes. That's why the unnamed official unabashedly told the Journal, "The president asked for an intelligence assessment. This is not the intelligence assessment the president asked for." Perhaps this was yet more evidence to Kelly and Mattis that during those frenetic first few weeks one of them needed to be "in country" just in case the fight to protect the republic went hot.
So far, the only real heat is coming from the commander-in-chief's self-serving willingness to deflect the responsibility for the disastrous raid on Yemen. Although the White House still claims it was a tremendous success, the raid yielded no usable intelligence, failed to nab the targeted terrorist, saw a Navy Seal killed and a $75 million plane go up in flames and, perhaps worst of all, a number of women and children killed in the hackneyed operation. But now the Democrats see a sequel to Benghazi, and the father of the fallen SEAL not only refused to meet with Trump but also called for an investigation into the debacle.
So, true to form, the commander-in-chief has blamed the generals for muffing what would otherwise have been a highly-rated episode of his ongoing divorced-from-reality show. And what better place for him to pass the buck than on another divorced from reality show—the feckless fawners of FOX & Friends. As Trump said to the media's most mendacious ménage a trios:
"This was a mission that was started before I got here. This was something they wanted to do. They came to me, they explained what they wanted to do ? the generals ? who are very respected, my generals are the most respected that we've had in many decades, I believe. And they lost Ryan."
They lost Ryan. Or, to coin a phrase, they didn't save Chief Petty Officer Ryan Owens. Steve Bannon couldn't have scripted it any better. Seriously, he literally couldn't have scripted it better. The movies he made totally sucked. But Trump, who watched a lot of generals on TV in preparation for his candidacy, has obviously been locked and loaded ever since he watched Spielberg's movie. Like the cynically stagecrafted ovation he produced for CPO Ryan's heartbroken widow, Trump delivered his blame-shifting lines like a real pro. Unfortunately, the actual pros in the military are now at the whim of a commander-in-chief whose only real allegiance is to himself and his beloved brand identity.
And that's the real danger the generals now have to guard against — the inherent paranoia that seems to come with the strongman style of governance. Ultimately, when the leader begins to confuse himself with the state — and when culpability for mishaps and malfeasance are opportunities to force underlings to fall on their swords — the generals in tenuous democracies often have to do what the electoral system cannot.
But because America is not Turkey, all Trump can do right now is propose a draconian, government-gutting budget, sign often-ceremonial executive orders, and prioritize brash displays of phallic power over the softer power of diplomacy. Perhaps surprisingly, it's that soft power the generals want to preserve.
As the missive from the retired generals pointed out, "The State Department, USAID, Millennium Challenge Corporation, Peace Corps and other development agencies are critical to preventing conflict and reducing the need to put our men and women in uniform in harm's way." They also noted that when he was Commander of U.S. Central Command, Trump's current Secretary of Defense Secretary James "Mad Dog" Mattis said, "If you don't fully fund the State Department, then I need to buy more ammunition."
Unfortunately for us all, that's exactly what Trump intends to do.
---
Opinion / Creative Commons / Anti-Media / Report a typo
The post 120 U.S. Generals and Admirals Just Sent Trump a Dire Warning About Diplomacy appeared first on We Are Change.
Wendy's Installs Robots In 1,000 Stores To Counter Minimum Wage
Posted: 01 Mar 2017 02:37 PM PST
The fast food industry is now reacting to the mandatory minimum wage increases…
Article via True Activist
For the last several years, the Free Thought Project has been predicting what will happen as government continued to arbitrarily fix wages across the US. As politicians deceive their constituents into thinking financial success can come through an act of legislation, employers will find a way to offset this cost. It will either come through higher prices or, in this most recent Wendy's case — robots.
To offset the costs of being forced to pay employees $15 an hour, Bob Wright, Wendy's Chief Operating Officer told investors last week Wendy's has found a solution. In the past two years, Wright noted, Wendy's has figured out how to eliminate 31 hours of labor per week from its restaurants and is now working to use technology, such as kiosks, to increase efficiency.
The automated kiosks serve two purposes: they give younger customers an ordering experience that they prefer, and they reduce labor costs.
"There is a huge amount of pull from (franchisees) in order to get them," David Trimm, Wendy's chief information officer, said last week during the company's investors' day.

"With the demand we are seeing … we can absolutely see our way to having 1,000 or more restaurants live with kiosks by the end of the year."
The spike in demand stems from restaurant owners who want to maintain low prices while sustaining profitability.
A typical store would get three kiosks for about $15,000. Trimm estimated the payback on those machines would be less than two years, thanks to labor savings and increased sales. Customers still could order at the counter.
Kiosks are where the industry is headed, but Wendy's is ahead of the curve, said Darren Tristano, vice president with Technomic, a food-service research and consulting firm.
"They are looking to improve their automation and their labor costs, and this is a good way to do it," Tristano said. "They are also trying to enhance the customer experience. Younger customers prefer to use a kiosk."
While Wendy's is ahead of the curve as far as outsourcing labor to robots goes, other fast food restaurants are not far behind.
Last month, the Free Thought Project reported on McDonald's latest attempt to stave off minimum wage hikes. However, unlike Wendy's kiosks that simply take your order, the McDonald's machines do it all — including spitting out a piping hot, 563 calorie, Big Mac.
While automation in the labor market is inevitable as technology increases, laws that dictate minimum wages only serve to speed up this automation. Sadly, many people will read this article and immediately assume that it's some fascist right wing rant that ignores the plight of the working class. However, that assessment couldn't be further from the truth.
Raising the minimum wage does nothing to protect the working class. In fact, as we see with these Wendy's robots, a mandatory minimum wage destroys the working class.
As Nobelist Milton Friedman correctly quipped, "A minimum wage law is, in reality, a law that makes it illegal for an employer to hire a person with limited skills."
If the economic effects of a minimum wage aren't convincing enough, perhaps consider the racist background of such laws. As Andrew Syrios points out, most Americans have no clue about the racist intentions and subsequent effects of the original minimum wage.
When Apartheid was collapsing in South Africa, the economist Walter Williams did a study of South African labor markets and found that many white unions were seeking to increase the minimum wage. He quotes one such union leader as saying "… I support the rate for the job (minimum wages) as the second best way of protecting white artisans." By pricing out less educated black laborers with a minimum wage, white unions were able to insulate themselves from competition.
Indeed, the Davis-Bacon Act, which demands that private employers pay "prevailing wages" for any government contracts, was explicitly passed as a Jim Crow law in order to protect white jobs from cheaper black competitors. And while the minimum wage is supported with much more pleasant rhetoric these days, the effects on black employment, particularly black teenage employment, have been devastating. As Thomas Sowell observes,
"In 1948 … the unemployment rate among black 16-year-olds and 17-year-olds was 9.4 percent, slightly lower than that for white kids the same ages, which was 10.2 percent. Over the decades since then, we have gotten used to unemployment rates among black teenagers being over 30 percent, 40 percent or in some years even 50 percent.

It's hard to imagine that black unemployment was actually less than that of whites. But that is the effect minimum wage laws can have.

Ending poverty and giving people additional income are praiseworthy goals, but there are no free lunches in this world. And trying to force prosperity through a minimum wage simply creates a whole host of negative and unintended consequences especially for those who are the most vulnerable."
What are your thoughts? Please comment below and share this news!
---
This article (Wendy's Installs Robots In 1,000 Stores To Counter Minimum Wage) by Matt Agorist is free and open source. You have permission to republish this article under a Creative Commons license with attribution to the author and TheFreeThoughtProject.com
The post Wendy's Installs Robots In 1,000 Stores To Counter Minimum Wage appeared first on We Are Change.
Scientists Crack Secret of What Makes Social Media Stories Go Share-Crazy
Posted: 01 Mar 2017 02:22 PM PST
What makes humans share information with others? Attempts to answer and understand these questions have been ongoing for centuries, but have gone into hyperdrive following the rise of social media, a phenomenon that enables and encourages large-scale data distribution. Now, neuroscientists believe they have found a solution to the riddle.
Those seeking to send posts supernova on social media undoubtedly wish they possessed a crystal ball or secret equation, which would show them whether what they've shared will capture the imaginations of those who see it, and motivate them to share it themselves.
However, a University of Pennsylvania neuroscientist team believes they may have found a built-in system in human brains, which helps identify juicy news stories perfect for one's social media feed. The team analyzed brain responses of subjects reading articles in the mainstream media.
"Data suggests two of the really important inputs to 'the value signal' are potentially holistic assessments of how self-relevant and socially-relevant information is," noted Dr. Emily Falk, one of the study's authors.
In essence, certain patterns of brain activity are said by the team to denote which stories are interesting, whether they appeal to others and whether sharing would improve one's social standing. The brain considers these points first individually, then collectively, and ultimately decides whether to share something or not.
What's more, these inputs and calculations are seemingly uniform across all human beings — the same brain activity was evidenced in all test subjects, although the conclusions differed slightly from person to person.
To root out the brain activity behind virality, Dr. Falk and her colleagues first mined large studies and meta-analyses that have linked thinking processes to specific brain regions, and picked out brain subregions and systems linked to valuation processing, self-relevant expectations, and "mentalizing" — the understanding or prediction of the mental states of others.
The researchers analyzed participants' brain activity, recording relative activity changes in the brain regions they had already identified. In data modeling, they found that activity in all the regions was linked to the participants' sharing decisions and real life virality.
Subjects were told to rate stories on positivity, usefulness, contentiousness, emotional resonance and novelty, and whether a story would go viral — programs conducted the same test, and fared far worse.
However, despite this quantum leap in understanding, the full formula behind what blasts a story into the social stratosphere remains somewhat elusive.
While the findings might be useful for media providers who wish to slightly up the chances of supersizing their traffic, there's much more work to be done before scientists fully comprehend what makes information sharing tick in the online sphere.
Originally published on Sputnik News.
The post Scientists Crack Secret of What Makes Social Media Stories Go Share-Crazy appeared first on We Are Change.