Coup Against Trump Led By McCain, Schumer & Graham, Satanist illuminati Puppets
New York Times (Op-Ed): Jeff Sessions Needs to Go
By RICHARD W. PAINTER
REBUTTAL BY
Damn it! We really hate being right so often!
Subscribers of the almost-daily Anti-New York Times will recall that it was only a few days ago that we warned against the folly and danger of strategically conceding points of argument to evil liars. From our February 28th issue about coal company executives accepting the hoax of "Global Warming" TM and meeting with "Green" groups:
***** FLASHBACK ******
A proverb from your favorite philosopher here at The Anti-New York Times:
"He who allows an evil adversary to frame the debate has already hanged himself."

Never, for the sake of strategic expediency, yield an inch of truth to a pack of liars. Never! To use an analogy from American football, Team Satan will not stop advancing the ball with the "first down" yardage you have so graciously, cowardly and stupidly granted them. No way! They will instead use the easily-gained ground to launch a new set of bold attacks as they "move the chains" again and again and again until they have reached the final destination.
Why give the guy in Image 2 any ground, at all? Let him work for it!
**************** 
And what is the big "scandal" in the Fake News today?   Answer: The innocent conversation between Attorney General (then-Senator) Jeff Sessions and the Russian Ambassador.
And why would such a conversation be considered as grounds for Sessions to resign? Answer: Because the meddling Russians hacked Demonrat computers and fed information that was damaging to Killary Clinscum to Julian Assange of WikiLeaks.
And what evidence is there that the Russians were actually behind these hacks and leaks? Answer: Even Donald Trump now admits it!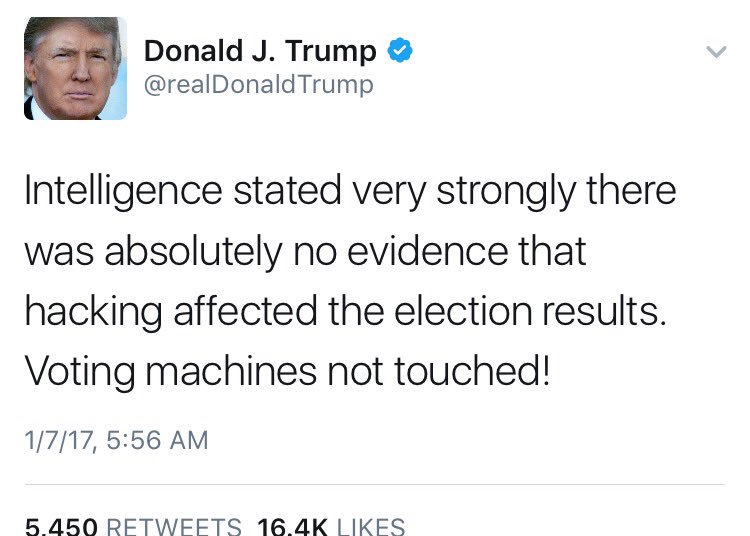 From December to January, Trump's tweets "moderated" from open denial and ridicule (Tweets 1 & 2) to merely: "the machines weren't touched" and "it didn't affect the election results anyway." (Tweet 3)

Do "youse guys" see what we mean about making concessions to the Sons of Satan? You see, just to shut his enemies up and relieve a bit of the pressure that was being brought to bear against him, Orange Man foolishly abandoned his very strong original position in which he dismissed all accusations against Russia as unsubstantiated. When nibbled at by the Piranha Press for "disrespecting the intelligence community," OM softened his stance by conceding that the Russians were "probably" guilty of hacking into e-mails, but that it didn't matter because Killary would have lost anyway.
"First Down and 10!"
The temporary relief that OM enjoyed by foolishly admitting to Russian meddling was very short-lived. As a direct consequence of that first concession, National Security Advisor Mike Flynn then came under attack for "talking to the Russians" during the transition period and "lying" to the VP snake Mike Pence about it.  Flynn was then fired to appease the lynch mob. Another "First Down and 10!"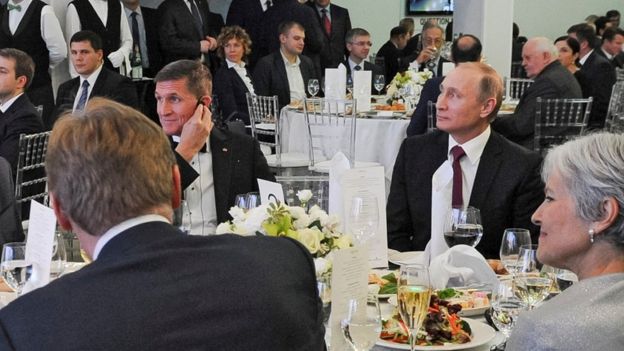 Because Trump admitted that the Russians "probably hacked," Flynn (Image 1 with Putin) was more easily targeted for his "ties to Russia." His media-approved replacement, General H. R. McMaster is a CFR (Council on Foreign Relations) Globalist.
After tasting Flynn's blood, the Globalist agents in government and the Fake Media had even better field position from which to launch the next wave of attacks in the form of a coming "investigation" from which Sessions has just agreed to "recuse himself" from. Yet another "First Down and 10!" What next? A Special Prosecutor? A "Bipartisan Commission?" TM

Evidently, Trump "strategist" Steve Bannon isn't so clever after all. Or could it be the DC "power couple" of baby-girl Ivanka and her squirrelly Democrat Jew husband Jared that is de-balling "The Donald?" Thanks to OM's softening and Flynn's firing, the debate about Russian meddling is "settled" and cannot be be revisited. Those "yards" are lost forever. The new debate will now center around: "What did he know and when did he know it?" TM. Dadgummit! When will people ever learn to stop making cowardly concessions to the aggressive Left?! That "kinder, gentler" bullshine doesn't work with these demonic creatures.

Had OM stuck to his attack guns and repeated, over and over and over again, "Lies … Lies … Lies" and demanded an investigation into the fake intelligence instead — the storm would have passed and his discredited accusers would have been the ones losing yardage. As it stands now, OM and his team are facing a new wave of attacks from an ever shrinking defensive position "in the shadows of their own goal post" — with another enemy "First Down and 10" (or is it "first and goal" already?) fast approaching.

1. Communist Congresswomen Maxine Waters has predicted that the Russia Affair will bring Trump down.
2. Senate scoundrels McCain the Insane, UpChuck Schumer, and Sodomite Graham now intend to use this phony "proven" Russia Affair to stage a coup.
3. Soon, there won't be any territory left to defend.