US Media is All B__lsh_t! Get on the Internet To Fact Find!
Klayman: Good Renewed Lesson for the President and All His "Men" – Slimy Leftist Journalists Like Chuck Todd of NBC Don't Deserve Any Respect! Just Do What the People Voted for You to Do! Ignore Media Slime!
Conway: Trump White House offered 'alternative facts' on crowd size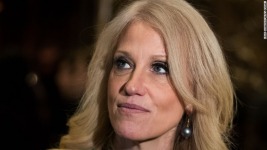 By Eric Bradner
CNN
January 22, 2017
White House press secretary Sean Spicer's false claims about the size of the crowd at President Donald Trump's inauguration were "alternative facts," a top Trump aide said Sunday.
In an interview on NBC's "Meet the Press," host Chuck Todd pressed Trump senior adviser Kellyanne Conway about why the White House on Saturday had sent Spicer to the briefing podium for the first time to claim that "this was the largest audience to ever witness an inauguration, period."
"You're saying it's a falsehood. And they're giving – Sean Spicer, our press secretary – gave alternative facts," she said.
My Comment:  US Media is Zionmedia.  Period.  The Zionists are the Synagogue of Satan ….all lies and deceit!