WeAreChange
---

Ukraine Probes Likely Murder of US Embassy Staffer in Kiev ParkPosted: 30 Sep 2020 09:36 PM PDTUkrainian authorities are investigating the shocking and mysterious death of a US Embassy employee on Wednesday.So far all that is known is that a woman was found lying unconscious near railroad tracks in a park near the city center, apparently the victim of a brutal attack, given she had a head injury, according to Reuters.She succumbed to her wounds at a nearby hospital, after which investigators found her ID, indicating she was employed by the US embassy in the Ukrainian capital of Kiev. The US Embassy-Kyiv subsequently confirmed an American member of its staff has died under unknown circumstances.A criminal investigation is underway, according to Interior Ministry spokesman Artem Shevchenko, who issued a statement in English saying it "may be a crime". He followed with: "But may be an accident too. Body was found on railway in earphones during the jogging.""The unconscious woman was admitted to a hospital where she subsequently died. During the examination of the victim's belongings, an identity card of an employee of the U.S. Embassy in her name was found," Ukrainian police said.Police say the investigation is focused on suspected murder and that they are seeking a suspect based on possible eyewitness accounts, described as follows:Police are looking for a dark-haired man of 30-40, dressed in dark shorts and a T-shirt. Within hours after the news breaking, the US Embassy-Kyiv issued confirmation.Little is known as to the identity of the woman, other than she was an American citizen. American embassies abroad also typically employ dozens of local workers within the host country, but the confirmation suggests she could be US diplomatic personnel, or part of another high level agency."We are heartbroken to report the death of an American member of the U.S. Embassy Kyiv community," an official US Embassy statement said. "Officials from U.S. Embassy Kyiv are currently working with authorities to determine the circumstances of the death."We are heartbroken to report the death of an American member of the U.S. Embassy Kyiv community. Officials from U.S. Embassy Kyiv are currently working with authorities to determine the circumstances of the death.— U.S. Embassy Kyiv (@USEmbassyKyiv) September 30, 2020US embassies also host a multitude of federal agencies, some in covert or clandestine capacities. Though the majority of personnel are State Dept. Foreign Service, such as diplomats, usually CIA and others like the Defense Intelligence Agency (the DoD's civilian intelligence arm that works closely with the Pentagon) also operate out of foreign embassies.Republished from ZeroHedge.com with permissionThe post Ukraine Probes Likely Murder of US Embassy Staffer in Kiev Park appeared first on We Are Change.
London Court Hears Shocking Details of CIA Plot to Assassinate Julian Assange, Steal DNAPosted: 30 Sep 2020 04:01 PM PDTNow in its second week, Julian Assange's extradition hearing at the Old Baily in London just heard explosive testimony based on previously reported revelations that the CIA had actively plotted to assassinate him, by either poisoning or via a kidnapping plot.The testimony is part of the defense team's attempt to frame the US extradition case as entirely political in nature, and not based on breaking US law, but also toward convincing the judge that the WikiLeaks founder would certainly face extreme and excessive punishment, which would be cause for Britain to block the extradition.Though mainstream media has by and large ignored much of the bombshell testimony from the hearing since last week, this latest cloak-and-dagger type information detailing just how far US intelligence was willing to go is impossible to ignore.Even The Guardian is now belatedly reporting on it:Plans to poison or kidnap Julian Assange from the Ecuadorian embassy were discussed between sources in US intelligence and a private security firm that spied extensively on the WikiLeaks co-founder, a court has been told.Details of the alleged spying operation against Assange and anyone who visited him at the embassy were laid out on Wednesday at his extradition case, in evidence by a former employee of a Spanish security company, UC Global.Outrageously, the US used the Spanish front company to plant "intrusive and sophisticated" secret surveillance devices in the Ecuadorian Embassy in London where Assange had been living under asylum for seven years.While officially the firm was in charge of protecting the Ecuadorian embassy, it was simultaneously acting on behalf of the US authorities, which was engaged in eavesdropping on Assange and his visitors who entered the diplomatic building to meet privately with him. Plotting by US intelligence even involved scenarios wherein a "kidnapping" or killing could be made to look like an "accident."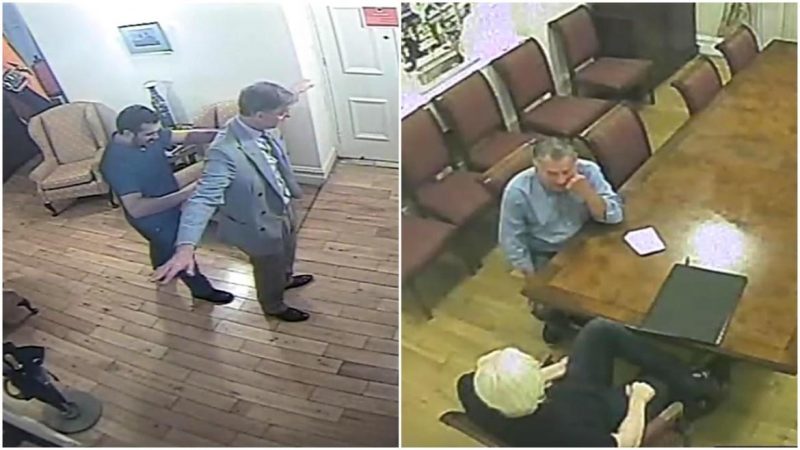 Via The GrayZone–Left: A UC Global spy pats Lowell Bergman down at the entrance to Ecuador's embassy in London. Right: Footage secretly recorded by UC Global of Bergman's meeting with Assange.And even more shocking and outrageous, biometric information was taken or sought even centered on family members and close acquaintances of Assange as they visited the embassy.This even involved plans to lift a DNA sample from his baby's dirty diaper, as The Guardian details further of Wednesday's testimony:Microphones were concealed to monitor Assange's meetings with lawyers, his fingerprint was obtained from a glass and there was even a plot to obtain a nappy from a baby who had been brought on regular visits to the embassy, according to the witness, whose evidence took the form of a written statement.The testimony was so explosive that two key eyewitnesses who previously worked for UC Global were allowed to issue their statements under anonymity.This legal protection was granted because they believe the private security firm's director, David Morales, or even US intelligence officials he works with could seek to harm or kill them. The Guardian continues with the following:The founder and director of UC Global, David Morales, had said that "the Americans" had wanted to establish paternity but the plan was foiled when the then employee alerted the child's mother. Anonymity was granted on Tuesday to the former employee and another person who had been involved with UC Global, after the hearing was told they feared that Morales, or others connected to him in the US, could seek to harm them. Details of their written evidence were read out at the Old Bailey in London on Wednesday by Mark Summers QC, one of the lawyers for Assange, who is fighting extradition to the US on charges relating to leaks of classified documents allegedly exposing US war crimes and abuse.The below leaked image was previously described by El País: "Julian Assange's friend Stephen Hoo walking into the Ecuadorian embassy in London with one of the cyberactivist's babies in 2017."#8: As part of espionage operation against WikiLeaks founder Julian Assange, the owner of Spanish security company obsessed over whether Assange was father of child who was brought into Ecuador embassy. He ordered diaper to be stolen for DNA testing. https://t.co/iHcI2pNdhL— Kevin Gosztola (@kgosztola) April 18, 2020Again, the defense is hoping the testimony is a damning enough indictment of the CIA and its partners' massive intrusion on Assange's basic legal rights and protections as to prevent the US requested extradition.US wanted to kill WikiLeaks founder and make it look like accident:https://t.co/HsR7DebDxx— WikiLeaks (@wikileaks) February 25, 2020Indeed considering two star eyewitnesses for the defense (who themselves essentially were involved in the prior invasive surveillance of Assange) are fearful enough about what they have to offer as to essentially seek a form of temporary 'witness protection' by the London court, this should make it glaringly obvious that the whole thing is a political witch hunt of a whistleblower who exposed American war crimes abroad.Should the UK deem that Assange is at risk of cruel punishment or even death if extradited to US custody, it must strike down the request based on existing laws.Republished from ZeroHedge.com with permissionThe post London Court Hears Shocking Details of CIA Plot to Assassinate Julian Assange, Steal DNA appeared first on We Are Change.
Kyle Rittenhouse Lawyer Threatens to Sue Joe Biden Over 'White Supremacists' Campaign AdPosted: 30 Sep 2020 03:46 PM PDTKyle Rittenhouse is pursuing a libel case against the Joe Biden and his campaign after the former Vice President included the 17-year-old in a Wednesday campaign advertisement suggesting he is a white supremacist – despite the Anti-Defamation League finding no evidence he was or is connected to any extremist movements.The ADL said there was no evidence that Kyle Rittenhouse was connected to any extremist movements pic.twitter.com/pih1rBPRm4— Daily Caller (@DailyCaller) September 30, 2020According to his attorney, Lin Wood, a lawsuit is headed straight for Biden.Yes it is.The only thing that saves Chris Wallace is that he did not use Kyle's name or likeness. @JoeBiden & his campaign recklessly did.Meets the "of and concerning" requirement of libel law.Joe is going to be sued.Successfully.https://t.co/n1qBiDj6no https://t.co/Pp8OQaAm9W— Lin Wood (@LLinWood) September 30, 2020Busy day! Pleased to announce that @ToddMcMurtry & @RonColeman will be joining my legal team in pursuing libel case for Kyle Rittenhouse against Joe Biden & his campaign.No need to turn up hearing aide, Joe. You can easily hear footsteps of army for justice coming to visit you.— Lin Wood (@LLinWood) September 30, 2020"I will rip Joe into shreds. Ask witnesses who have had the misfortune of sitting across the table from me under oath," Wood added.Rittenhouse, whose defense funds have raised over $500,000, was arrested after killing two BLM attackers and injuring a third in Kenosha, Wisconsin during an August 25th BLM protest. The teen was in Kenosha to protect businesses in anticipation of rioting and property destruction in the wake of the shooting of Jacob Blake by police.Video from the scene shows Rittenhouse being chased down the street before falling on the ground and firing his weapon, while earlier footage shows him shooting BLM protester Joseph Rosenbaum – who had acted aggressively earlier towards Rittenhouse, who was charged with six criminal counts including first-degree intentional homicide and first-degree reckless homicide, has claimed self-defense.Republished from ZeroHedge.com with permissionThe post Kyle Rittenhouse Lawyer Threatens to Sue Joe Biden Over 'White Supremacists' Campaign Ad appeared first on We Are Change.