THE ANTI-NEW YORK TIMES
Half Truths & Globalist Bias of The NY Times Front Page Headlines

___________________________________________________________________
        FEBRUARY, 2018   1 FED RESERVE NOTE
___________________________________________________________________
"We read and rebut their vile crap so you won't have to!"
*****************************************
ALL ARTICLES FOR ANY GIVEN MONTH APPEAR ON SAME PAGE — MOST RECENT FIRST —  SCROLL DOWN FOR PAST DATES.
MONDAY / FEBRUARY 26, 2018
NY Times (Op-Ed: America Is the Gun
By CHARLES BLOW
Boobus Americanus 1: I read an op-ed in the New York Times today in which Charles Blow opines that half-measures won't cut it when addressing this tragedy of school shootings.

Boobus Americanus 2: It's that damn NRA! Politicians are afraid of them.

Sugar:  Boobuss, you frickin' credulouss ass-clown!!! Every one of thesse masss sshootingss is frickin' hoax! 
 Editor: The crisis-actor revelations may be too much shock-therapy for normies like Boobuss to handle, but we must keep planting the seeds of truth.
COMMENTS / FEEDBACK / INSULTS / KUDOS
E-mail: GreatTomatoBubble2@gmail.com
IT'S HERE!
ANYT PAPERBACK / 

QUARTER 4 

/ 2017 
–– To collect any of the other ANYT 

volumes (12 in all)

, visit Amazon Author Page of "M S King" (here)
SUNDAY / FEBRUARY 25, 2018
NY Times: Ivanka Trump, in South Korea, Calls for Pressure on the North
By CHOE SANG-HUN
Baby girl Ivanka Trump arrived in Seoul, South Korea to officially represent the United States at the closing ceremony of the Winter Games. President Trump, noting her arrival, lovingly tweeted out about his dipsy baby girl, "We cannot have a better, or smarter, person representing our country."
That tweet reminds your raving reporter here of days gone by when my own boys, just barely out of diapers, would draw up some incomprehensible crayon image and then present it with great pride for refrigerator-magnet immortalizing. "Oh what a talented little boy you are!" — mommy and daddy would gush while giving each other a knowing look and a smirk.
Thankfully, if the "inside baseball" coming out of the White House is to be believed, this bratty little New York libtard and her goofy Jew husband, Jared Kushner, seem to have had their roles diminished to symbolism only. 

Sugar and I

, er, "The Editorial Board" of The Anti-New York Times are "OK" with allowing Baby Girl have dinner with the South Korean president and smiling for the cameras at the closing ceremonies. Just keep this "Ivy League educated"

 ™

 Manhattan dingbat out of any policy-making roles — particularly when it comes to her pet commie crap issues of "Global Warming" 

™ aka "Climate Change" fka "Greenhouse Effect," 

"paid family leave" for working women (while stay-at-home mom's get nothing!) and funding for Planned Abortionhood.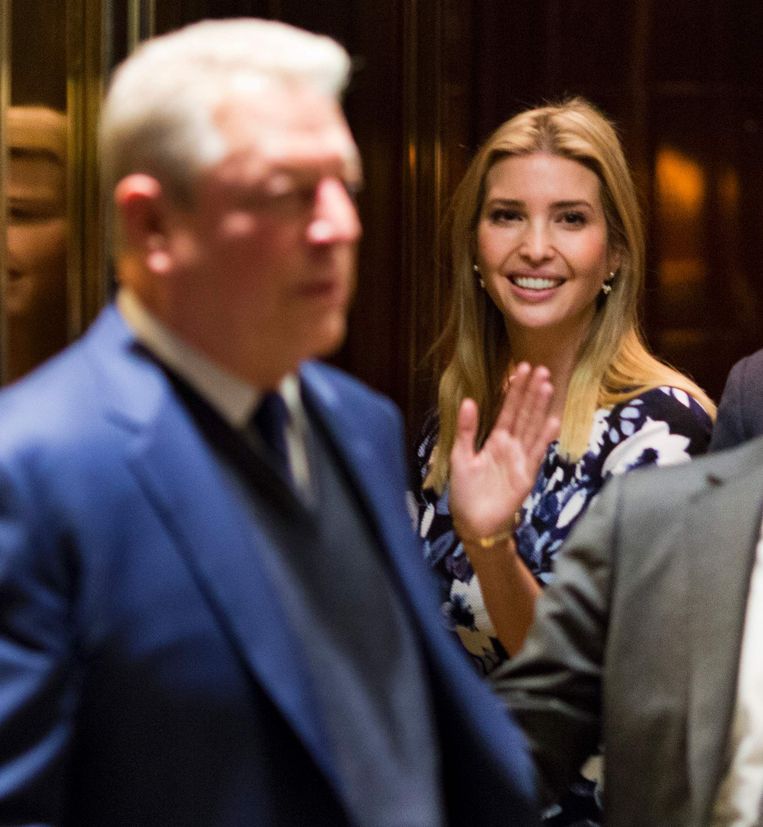 COMMUNIST LIBTARD
 1. According to Climate Con Man Al Gore, Ivanka is very concerned about "Climate Change" ™. 2. Baby Girl has been pestering daddy with her stupid commie ideas about "child care." 3. Ivanka is a big fan of Planned Parenthood, the abortion provider which libtards seem to think is a government agency forever entitled to funding.
Someone really needs to sit down with this child and explain to her that her "accomplishments" in business aren't as impressive as she thinks. When your last name is Trump, and you're plugged into Big Jewry through your husband, it ain't all that difficult to make a few phone calls and get your fashion line into the big retailers. A million other cute "fashionista" babes could — if given access to the same unlimited capital and the same high-powered connections as Ivanka — also "succeed" in this business. So much for Baby Girl's vaunted "business acumen."

We believe that former White House adviser Steve Bannon was correct (if a leak, which he did not deny, is accurate) when he described Ivanka as being "dumb as a brick." She is a libtard, which automatically entails a high degree of stupidity. The scuttlebutt is that Baby Girl is trying to work her way out of the quasi-exile engineered by Chief-of-Staff John Kelly. Spoiled Jewish princesses (even converted ones) never quit until they get their way.
1. Bannon couldn't stand this libtarded little brat. 2. And it appears that Kelly can't either. 3. Deprived of the fatherly attention she needed as a little girl, Ivanka, a child of divorce, is always seeking approval. She apparently had her own jewish children write false-flag "fan mail" to her and posted it to her Twitter! Notice how all the "fan mail" says "Thank You" and is written by the same type of markers in the same style. What are these phantom child-fans thanking her for anyway?
On a positive note, this article does at least appear to confirm something that we have been saying for the past year, namely, that Trump's sabre-rattling antics with regard to North Korea were all just for show — intended to conceal the behind-the-scenes peace negotiations that representatives of Trump, Xi and Lil' Kim have all been engaged in.
From the article:
"Mr. Moon then stressed the importance of easing tensions on the peninsula, thanking "President Trump's strong support for inter-Korean dialogue."
"North Korea's participation in the Winter Olympic Games has served as an opportunity for us to engage in active discussions between the two Koreas, and this has led to lowering of tensions on the peninsula," he said."
That's good to hear.
Mr. President — Allowing Ivanka to have dinner with the South Korean President and chat fashion with his wife is one thing, just keep this annoying eternal child of yours away from any matters of national significance. But by all means, do allow the adorable little whippersnapper to feel important. 
1. Baby Girl's parents split-up when she was just 10 years old. Childhood insecurities evidently drive her idiotic, busy-body, attention-seeking libtardedness.  2. Ivanka's business achievements are grossly exaggerated.  3. Let her have dinner and look pretty in front of foreign leaders. But no more than that!
COMMENTS / FEEDBACK / INSULTS / KUDOS
E-mail: GreatTomatoBubble2@gmail.com