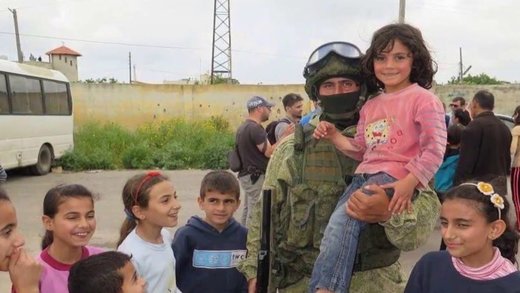 Since the Western invasion of Syria with proxy armed forces, Russia has frequently delivered humanitarian aid to the country. Here are a few examples from this year and the last:
1. In March 2015, an Il-76 aircraft carrying 20.5 tons of humanitarian cargo was brought to the Syrian port city Latakia.
2. In September 2015, the first Russian tent camp for internal refugees opened in the city of Hamah, western Syria.
"The camp for 500 refugees consists of 25 army tents fully equipped for living, a field kitchen, a canteen, showers, two mobile power generators and a water-storage facility. The dwelling tents are equipped with beds and heating furnaces for cold weather. In case the number of refugees increases sharply, the camp is ready to accommodate up to 1,000 people. Everything needed to set up a camp was delivered to Latakia Airport on September 12 by an Antonov An-124 Ruslan jet. The flight also brought 50,000 sets of disposable tableware and 15 tons of provisions enough to feed 50 people for 30 days."
An additional 80 tons of humanitarian aid was delivered on the same day. In late September, ships with more aid arrived at the port city of Tartus, containing "Food stuffs, medications, clothes, blankets, tents and other living essentials for refugees… along with automotive vehicles for civilian designation and military equipment".
3. In March 2016, Russia offered assistance to international organisations facing difficulties with storage, packaging, delivery and local distribution of aid. Two major Russian sites in Syria are the military base in Tartus (where aid can be stored and distributed) and an airfield in Lataki (which can be used to airdrop shipments to their final destinations).
4. In April 2016, the Russian military brought 4.5 tons of humanitarian aid and provided medical assistance in the Damascus and Aleppo provinces.
5. In May 2016, Russian aircraft delivered 32.5 tons of humanitarian cargo (mostly food products) that was received from the UN to the then ISIS-besieged city of Deir ez-Zor. In January, that city also received 22 tons of aid airdropped by Syria's military transport planes using Russian equipment.
Video: Syria: Russian troops deliver humanitarian aid to residents of Kanaya
Video: Russian Army provides humanitarian aid, medical treatment to Latakia refugees
In total, Russia has delivered over 620 tons of aid to the Syrian population in recent years. Western media may say all kinds of things, but the facts on the ground make it crystal clear that Russia's aim from the very beginning has been to help the Syrian people, not to kill them.
When, in January this year, the Russian army decided to launch humanitarian operations in especially tricky areas, General Sergei Rudskoi, a senior Russian General Staff official, said the reason for this was that most of the aid ended up in the hands of extremists. In other words, they had to take matters into their own hands in order to make sure the supplies were going to the Syrian people.
When it comes to 'aid' airdropped by the US – that is, military aid – it's not unusual for it to "accidentally" fall into the wrong hands, i.e. ISIS' claws.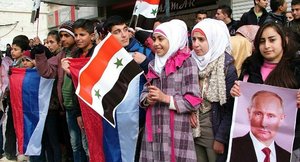 Russia's assistance has been exceptional. In March this year, the International Committee of the Red Cross (ICRC) publicly praised Russia's role in bringing humanitarian aid to Syria:
"In this context, the ICRC appreciated the role of Russia, including that in the framework of coordination with other members of the International Syria Support Group and the Syrian Government, to promote international efforts for the delivery of humanitarian aid to the besieged population centers in Syria in accordance with the UN Security Council resolutions 2254 and 2268, " the ministry said in a statement.
Besides Syria, Russian humanitarian aid has also been delivered in at least 139 other countries.
In a world where Western countries – particularly the US and the UK – destroy, pillage, and destabilize countries for their own benefit – with one of the results being that, for the first time, the number of refugees worldwide has passed the 60 million mark – Russia is one of the few nations in the world that stands out as one that actively works towards helping others.