Elite Cabal Needs a Race War and Soros Funds Black Lives Matter & Antifa So Allegedly Porn Star & Petty Thief Black Man Tortured to Death in Minneapolis; Riots Follow
Minneapolis: Mass Riots After White Cop Tortures Black Man to Death
By infostormer -May 26, 202010
After seeing numerous hoaxes amplified by the media claiming that a White cop brutalized or killed a black man for no reason, it looks like we might finally have a legitimate case of this.
Video footage taken in Minneapolis, Minnesota shows a White cop plunging his knee on to the neck of a black man named George Floyd for a prolonged period of time as he is handcuffed face down on the pavement. This prevented Floyd from being able to breathe. He later died as a result of what the cop did.
I'm not exactly sure what he did to be put in this situation, but the cop certainly didn't have to kill him. This is basically like the Eric Garner case several years back only many times more extreme.
Blacks are obviously a major problem and I don't want our people to be around them, but with this virus lockdown, cops have become an even bigger problem than blacks. They are the enforcers of all this unconstitutional ZOG lockdown insanity and are treating everybody like shit.
The media is going to hype this up as a racial issue, but I don't necessarily see it that way. This is becoming a situation where it is the cops versus everybody else regardless of race. It looked like one of the other officers who just let this happen was some type of Asian. But the larger point is that nobody is liking what these cops are doing. The cops are under no obligation to execute unlawful and unconstitutional orders but that's exactly what they've been doing and it is why they are becoming increasingly hated.
Blacks and other people are rioting over what happened. Minneapolis has turned into a war zone over this. People are literally attacking and destroying cop cars.Breaking911@Breaking911
Protests in #Minneapolis turning violent after death of #GeorgeFloyd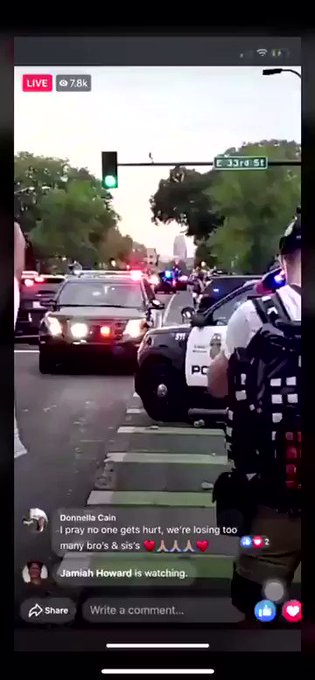 14.5KTwitter Ads info and privacy7,866 people are talking about thisComplex✔@Complex
Protest broke out all over the streets of Minneapolis to call for justice in the killing of #GeorgeFloyd: https://bit.ly/3c0oYYZ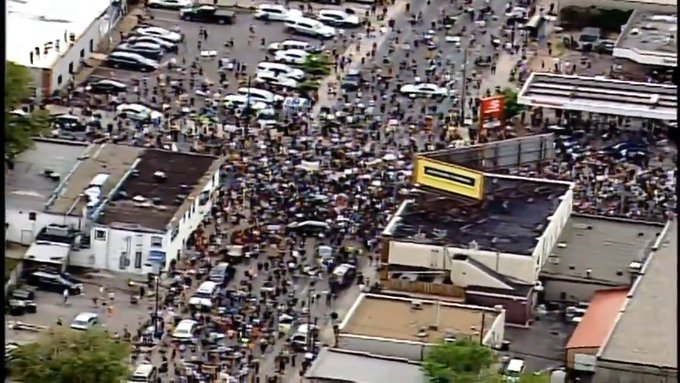 27KTwitter Ads info and privacy9,654 people are talking about thisWCCO – CBS Minnesota✔@WCCO
RAW VIDEO: Protesters inside Minneapolis Police's 3rd Precinct parking lot smashing squad cars, before officers show up and fire flash grenades inside to get them to disperse. WARNING: This video contains violence and strong language. READ MORE: https://cbsloc.al/3gnE0vj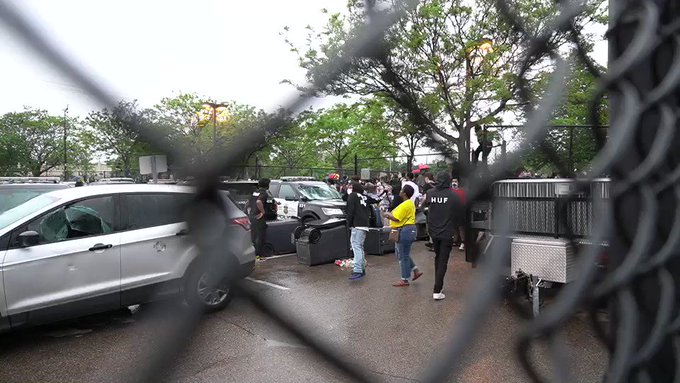 6,509Twitter Ads info and privacy3,444 people are talking about this@cartiercrack
Love to see it #GeorgeFloyd #Minneapolis
3,925Twitter Ads info and privacy1,266 people are talking about thisPSL Minneapolis@PSLMPLS
Footage from the protest outside Minneapolis PD's 3rd Precinct and the march to demand justice for #GeorgeFloyd
955Twitter Ads info and privacy326 people are talking about this
Things are getting real tense in Minneapolis pic.twitter.com/jcmKj4sjTc

— (@rahm3sh) May 27, 2020
The police are revealing themselves more and more to be an enemy of the people. They are going to lose the ability to enforce law if we have more incidents like these combined with all the other unconstitutional nonsense they've been enforcing.
There is certainly a chance that the country could potentially descend into anarchy over the next few months. Especially when you factor in the unemployment and economic situation. People are going to be looking for excuses to riot and lash out at the system.
Comment: I predict race riots and many shootings of police. America is over. Glad the cops around here aren't like this.

Friend of We Are Change,

Take a look at the clip I show you at the very beginning of the video above.

Why did the Minneapolis police and fire departments stand down as the police precinct was taken over and then burned down?

Is this all being engineered to create chaos?

These are questions I pose in today's video

While getting into allegations of there possibly being undercover cops in Minneapolis who are agent provocateurs.

Which if true, would allow the police to create problem, reaction, solution so they can gain more power and control.

You should note though that like I explain, one of the images that's circulating is from Germany, not Minneapolis.

I also give you the update on the Minneapolis police officer being charged with 3rd degree murder and manslaughter

And how prosecutors are saying he had his knee on George Floyd's neck more 8 minutes and 46 seconds.

Plus there's the revelation that this police officer previously had 18 complaints against him and was involved in fatal police shootings and allegedly punched a handcuffed suspect

But Amy Klobuchar, who was chief prosecutor at the time, refused to bring charges against him.

I also give you an update about We Are Change contributor Emma, who is reporting live on the ground in Minneapolis

And who was held at gunpoint and robbed of her video equipment during all of the madness.
comment: Amy Klobuchar would like a police state since she refused to prosecute this killer cop when she could have.
Watch–George Floyd Warns Youth Against Gang Culture: 'One Day It's Gonna Be You and God'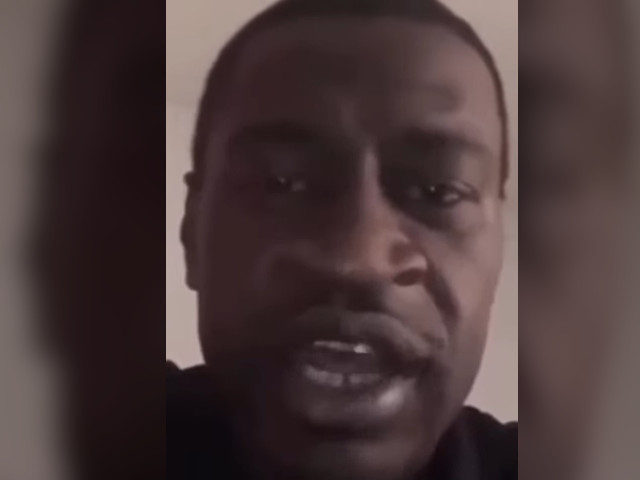 PENNY STARR29 May 20207593:40
George Floyd, the man whose death at the hands of Minneapolis police has set off nationwide protests, is being remembered as a reformer of his Texas hometown who encouraged black youth to turn from violence before he was killed.
In a video shared by a friend this week, Floyd talks about the younger generation being lost, using guns, and children being killed. He said that while some men involved in street culture seem tough, they are actually living in fear, and he implores them to change their ways.
"Hey man, come on home, man," Floyd said. "One day it's going to be you and God. You're going up or you're going down."
Christianity Today ran a lengthy feature on Floyd titled "George Floyd Left a Gospel Legacy in Houston."
The publication spoke to people who knew Floyd before he moved from Texas to Minnesota in 2018. His family told the Houston Chronicle that he intended to take a job through a Christian work program. In Houston, friends say he took on the mission of showing young people a better path than gangs and violence, especially in the Cuney Homes housing project:
[Pastor Patrick] Ngwolo and fellow leaders met Floyd in 2010. He was a towering 6-foot-6 guest who showed up at a benefit concert they put on for the Third Ward. From the start, Big Floyd made his priorities clear.

"He said, 'I love what you're doing. The neighborhood need it, the community need it, and if y'all about God's business, then that's my business,'" said Corey Paul Davis, a Christian hip-hop artist who attended Resurrection Houston. "He said, 'Whatever y'all need, wherever y'all need to go, tell 'em Floyd said y'all good. I got y'all.'"

The church expanded its involvement in the area, holding Bible studies and helping out with groceries and rides to doctor's appointments. Floyd didn't just provide access and protection; he lent a helping hand as the church put on services, three-on-three basketball tournaments, barbecues, and community baptisms.
"He helped push the baptism tub over, understanding that people were going to make a decision of faith and get baptized right there in the middle of the projects. He thought that was amazing," Ronnie Lillard, a Christian hip-hop artist who published Floyd's video message, told the magazine. "The things that he would say to young men always referenced that God trumps street culture. I think he wanted to see young men put guns down and have Jesus instead of the streets."
"His faith was a heart for the Third Ward that was radically changed by the gospel, and his mission was empowering other believers to be able to come in and push that gospel forth," Nijalon Dunn, who was baptized at Cuney, told Christianity Today. "There are things that Floyd did for us that we'll never know until the other side of eternity. There were times where we'd have Church at the Bricks until 3 p.m., and by 4:30, they're firing shots right at the basketball courts."
Corey Paul, another Houston acquaintance, described Floyd as a "person of peace" who "wanted to see change in the community":Corey Paul✔@CoreyPaulMusic
I knew #GeorgeFloyd personally. So, the media can't tell me nothing. When we did community outreach in the hood he was a "person of peace". He wanted to see us come together as a people. They murdered him in the street. You see why #BlackLivesMatter has to be stated. This hurt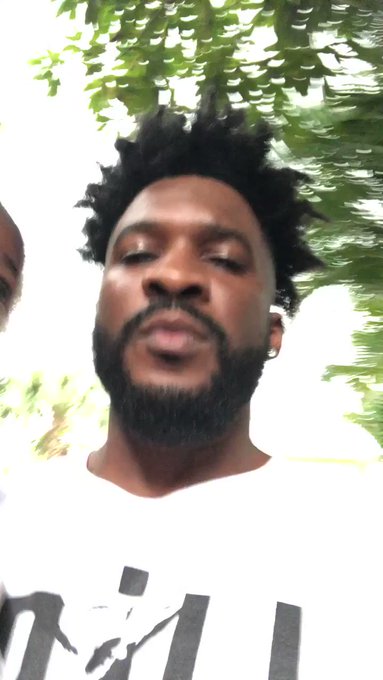 46.8KTwitter Ads info and privacy17.9K people are talking about this
Paul shared a message attributed to Floyd, telling a mutual acquaintance that he planned to return to Houston in the summer. While he never made it back, his friends say he will always been remembered — he'll be "immortalized in the Third Ward community forever," Lillard said. "His mural will be on the walls. Every youth and young man growing up will know George Floyd. The people who knew him personally will remember him as a positive light. Guys from the streets look to him like, 'Man, if he can change his life, I can change mine.'"
Follow Penny Starr on Twitter
FaithPoliticsB Inspired NewsChristianityGeorge FloydHoustonMinneapolisMinnesotaracismTexas